With the release of the Tiempo Legend VI, we thought it best to continue the trend of looking back at the past and giving a nod to some of the best colorways of the Legend V. Let's take a look at where Nike perfectly paired class with incredible colorways to create boots that will be remembered for many years to come.
Honorable Mention: Launch Colorway and Highlight Pack
Sometimes a boot is out for so long that you can't go without mentioning a few that missed out on a Top 5 spot. The launch colorway featured a mix of Desert Sand and Atomic Orange. The Highlight Pack had a Blue base with a Volt swoosh. The Highlight Pack stuck out on the pitch and looked great with lots of different kits.
5. Silver Storm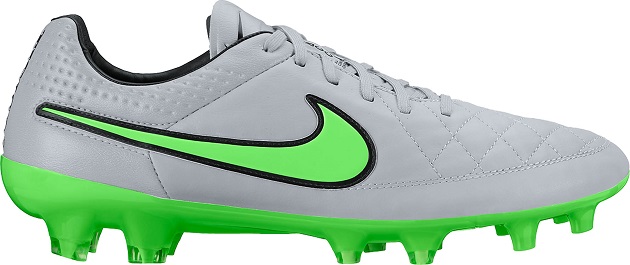 The Silver Storm Pack put out some stunning colorways for every top end boot from Nike, including the Tiempo lineup. The Wolf Grey base with a Green Strike swoosh and soleplate made for a brilliant mix of a subtle color and a bright color to make the Nike Swoosh really pop on the field. I personally had this colorway in the Legacy and it looks even better in person.
Normally a white boot is not a big favorite as people will be afraid to get it dirty. But the White/Treasure Blue Reflective Pack Tiempo looks incredible. The colorway already looks stellar and the reflective pattern is worth a look, so if you have a flash feature on your phone, check it out.
Come on now. Did you really think that one of the best-looking blackout boots to date wouldn't make the list? The blackout Tiempo looks incredible in its all matte black makeup. I personally love a nice a pair of blackout boots and when it's a pair of Tiempos, it makes it even better in my book.
The Totti edition of the Legend V was one of the best colorways of any boot in the last two years. Made for the warrior in Rome, the Legend of Italy, Francesco Totti received a "Legend" of his own. The black upper with a chrome foldover tongue made this colorway not only plain awesome, but also a unique one with the signature Totti tongue. The boot was limited to only 3,000 pairs worldwide. So yeah, if you were able to snag a pair, wear them with pride.
This is unquestionably the best Tiempo colorway to date. The Legend lineup keeps giving deserving legends some stunning colorways. This white and gold boot is as classy as it gets. There was only 3,000 pairs made worldwide and many retailers sold out in under an hour. The "Touch of Gold" Tiempo Legend was made to commemorate an older colorway of the Tiempo that made its name from Ronaldinho's famous YouTube video. Whether you love the boot or not, you have to love the Brazilian legend.
So what do you think of my list? What's your list look like?
See our other Top 5 lists: