Whenever I get a pair of boots in, the first thing I do is put them on and get ready to give them a run-out on the pitch.  No matter how rare, no matter the cost, the boots that pass through my hands are useless to me unless I use them.  However, within the equipment world, there is a massive market for collectors and people willing to spend almost anything in order to get a boot if the production company claims that it is "limited edition" or that the quantity released is small.  But, with that being said, are some of the bigger companies putting too much into that market?
In order to take a look, let's look at the last year alone.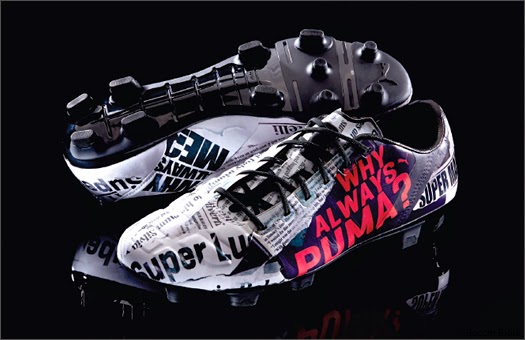 Puma have released two collaborations with their speed boot: the Ducati SL and now the BMW EvoSpeed.  They have also just launched an extremely limited quantity of boots commemorating Mario Balotelli's jump to the brand new EvoPower.  Although the Ducati and BMW were not advertised as being incredibly limited, the price suggested these boots definitely belonged in the "collector" category of boots.  Balotelli's boots barely break 200 in circulation though, meaning they will be an extremely hot item.  Although the price was close to buying any top-tier boot when these were launched, these three boots will bring in a ton of $ as they disappear on company websites.
Nike have gone crazy in the last 12-14 months.  The Nike GS2, the CR Vapor IX Special Edition, the R9 commemorative edition (including a further "CHROME" edition that was even MORE limited), World Cup colored Premiers, and it even seems like the most recent CR7 Vapor was slightly limited in its release.  If you bought all of these boots alone, without any other equipment or anything else, you would be flirting with spending over $1500.  For some relative scope, that's a decent down payment on a car or basically one of the nicest TV's that your local store could possibly carry.  On top of that, there was not even a price for the "CHROME" R9…but it would have probably been $500+ (there were only 15 made)!  How can anybody that is not dealing with an incredibly large budget be able to add these to their collection?
Adidas have also followed suit with the other two.  Adidas made sure that their reflective pack or the "Enlightened Pack" would be really limited for all of the included silos.  Adidas gave their Copa a special "white-out" paint job and made that limited release just before raising the Copa price.  The best part about that launch was that the price was not too ridiculous, but the demand made sure that it was pretty tough to find the boot.  And let's not forget the Yamamoto F50 and the fact that some of these boots are already selling for over $500 on eBay.  Like most of the adidas boots, you even had to WIN the chance to simply be able to BUY the boot.  Did you want to buy all of these boots?  It is going to cost well over $1000 just to bring in all the Three Stripes stuff!
Fancy yourself a collector?  Then just to bring in the collectible boots from the "big 3" would probably end up costing you (if you had bought them brand new) around $4000.  Considering that all these shoes will do will be sitting on the mantle or adorning some collection, that is a lot of coin.  Even if you did decide to use these boots on the field, it still seems like way too much money.  Have the big companies flooded the market with their "collectible" boots or does everyone enjoy all of these limited edition releases?  Personally…well, I believe I have made my position clear…but, one thing I have discovered in this job, the people that dislike these collectible boots the most are people that typically can't afford them…perhaps that is my excuse.