By now everyone knows that that Cristiano Ronaldo is "The Guy" for Nike when it comes to soccer. So naturally, over the years Nike has given CR7 his share of signature boots. But none of his signature shoes have been turning heads quite like the Rare Gold Mercurial Superfly.
The boot is a testament to Ronaldo winning his 3rd Ballon d'Or. The inspiration being the Ballon d'Or trophy, Nike decided to give the royal treatment to Cristiano's boots.  Ronaldo has had some flashy boots made for him in the past but as far as flair, these take the cake. The upper features a black base with gold starting from the middle of the boot all the way to the toe and wraps around to the other side. Bits of gold gala glimmer can be found all over the Nikeskin layer, as well as in the heel. The Swoosh at the front of the boot is black.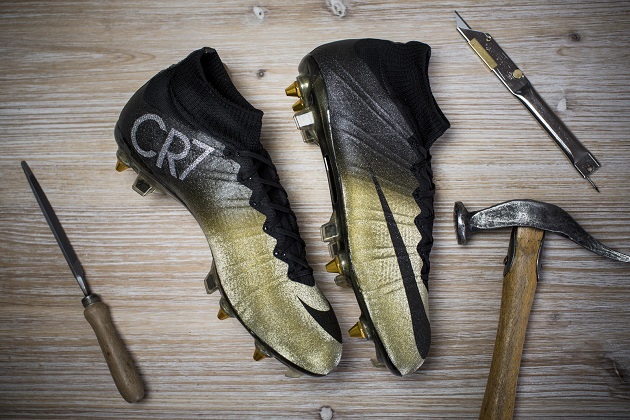 One of the main differences from the boot CR7 wears and the one that will be released to the public (besides the custom collar Ronaldo has) is the "CR7" branding is not made of diamonds; it will simply be all gold.  The soleplate will be all gold as well giving the Rare Gold boots a truly limited look from top to bottom.
Sorry, but these limited edition boots will be extremely difficult to catch as they go on sale at 3 AM eastern time tomorrow (2/20) on the Nike Football App. Only 333 pairs will be made available to the public so if you are looking to snag yourself a pair then I suggest getting some coffee and some sort of sugary candy because you will be up late.
We here at The Instep love the boots. There is always a fine line in my opinion of being too flashy and just enough to be special and I believe these boots are special. When Nike unveiled the boots that Ronaldo would wear after winning the Ballon d'Or, social media exploded with questions on how they could get their own pair. It finally seems that Nike has answered those questions and have kept the boot very special by keeping it a limited release.
Nike has yet to confirm the price for these boots but I would expect something in the $300 range. For those who will be lucky enough to purchase one of these incredible boots, congratulations! But for the rest of us out there, let us just appreciate what an incredible boot Nike have made available to the public. It will be interesting to see how many people will play in the boot or just use it as a collector's item. Either way, you will have one of only 333 boots in the world.
Personally I'm in love with these boots, but what do you think of Nike's latest limited edition release? Let me know in the comments below.