How can you tell when you are one of the best players in the world? Well, considering the fact that current players with signature boots can be counted on one hand, it seems like a signature boot might be a good place to start. CR7 has gotten four different custom colorways in 2014 and, given the Portuguese player's current pace, he certainly deserves them. For those big fans of Ronaldo, that would put you in the realm of $1000 to snag all of CR7's releases. While that may seem a bit over the top, adidas may have pushed their prize asset a little too much…
The debate over Messi vs Ronaldo will reign on for as long as people are stupid enough to compare two grown men, but the signature boot situation shows adidas playing a very dangerous game with their fan-base. While new colorways are usually welcomed quickly into the footy gear world, adidas has decided that Messi's signature should grace SEVEN different boots in 2014. While he technically wore 8 different boots during 2014, we are only going to be focusing on the boots that were actually released within this calendar year.
Ranging from the splattered paint boot (directly following the red/purple number) and stretching out until the Messi 10.1 that just hit the scene, Messi has been given 7 signature boots. 5 of those boots have been standard releases (Paint Splatter/World Cup F50/Yellow La Liga boot/4-tone Champions League boot/Messi 10.1) and two have been extremely limited releases (371 boots and Messi's birthday boots), with a total retail value above 1500 dollars. So, asking the all-important question, has adidas pushed their most recognizable face a bit too far?
The answer feels a little bit "yes" and a little bit "no." While it may seem obvious to label this entire situation as a "money grab" and start shaming adidas for what they have attempted to do, a few factors can show the moves as acceptable. First, this was a World Cup year. Since two of Messi's signature boots came within the biggest footballing event (that only occurs every four years), the numbers become a little more acceptable. Add in that Messi has spent the last year breaking a plethora of records, and it makes sense that adidas would want all of those records to help push a newer boot.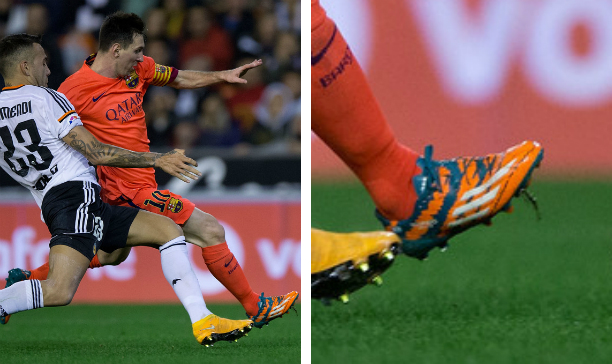 However, the reason why this can be seen as a fairly negative move by the three stripes stems from a few simple ideas. First, adidas currently has Messi wearing a different boot for league play and a different boot for the Champions League…can you say "opulence"…? Second, one of the limited edition releases was done with the outdated version of the F50! Why in the world would you release a current boot using a boot that is no longer even in production? There are a few other issues…like the fact that Messi uses a leather pair of his signature boots and we are yet to see a single boot in the signature line that is made without using a synthetic.
Now, with a rumored F50 update coming in 2015, how many updates with the Argentine genius snag next year? Will adidas continue to slap a new coat of paint on his boots like it is nothing? Or, will they tone it down in a non-World Cup year? While fans and consumers may not cause a public outcry, adidas does need to make sure that they do not alienate most Messi fans. As Nike grooms Neymar to take up the signature boot mantle, you have to wonder how companies factor in signature boots into their marketing…will they push their luck too far?