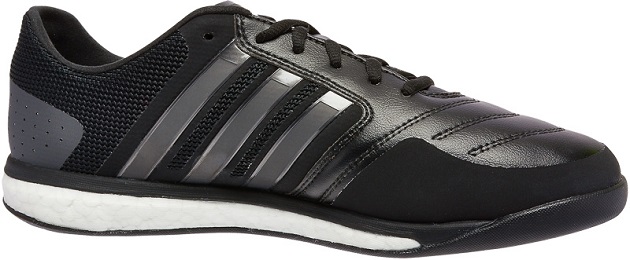 As someone that has absolutely fallen in love with the adidas Boost SuperNova that we have been wearing for the last few months, hearing that Boost tech was headed to some of the adidas FreeFootball range came as a very welcome surprise. Enter the Messi FreeFootball Boost…a shoe that has all of the looks of a lifestyle shoe (a shoe that can easily accompany your Sunday best) but a ton of features that make it just as capable a contender on the indoor scene.
A leather upper makes up the majority of the Messi FreeFootball upper, with some mesh sections surrounding the heel. There is a layer of material that sits above the edges of the toe-box and it seems to be in place to help with the upper's durability and allows it to maintain a clean look for as long as possible. On the Messi edition, the only splotches of color are derived from the bright white of the Boost tech running along the shoe and some "Messi" and "adidas" branding on the heel. The rest of the boot is a very deep black that makes it look more suited for any outing involving fancy dress than a standard afternoon outing somewhere…this thing is extremely classy.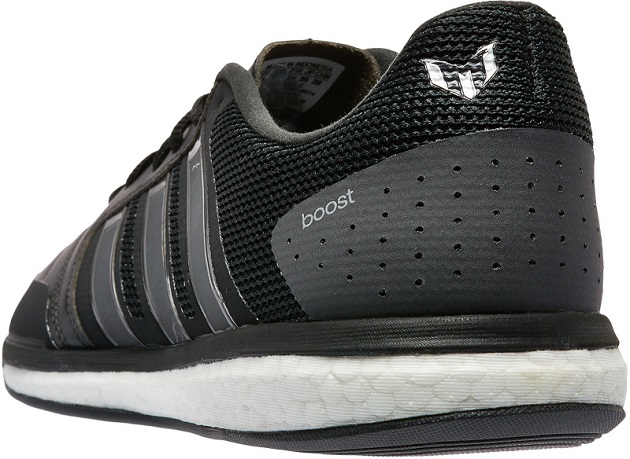 When it comes to putting these beauties into play, the quality is apparent and this would be a decent option for anyone that prefers to have an indoor shoe that can double as everyday wear. The sole is made of a criss-cross pattern that actually resembles a very scaled-back turf setup. It performs well on indoor surfaces and on turf, but still had some slippage when playing on old indoor floors that had accrued that thin layer of dust. The leather and added durability benefits that adidas included looks like it will hold up for quite some time…no matter what surface you decided to use the Boost on.
However, this shoe is not the best option available for anyone looking for a boot based solely on soccer performance…in fact, it is not even the best indoor shoe available from Adidas. While the comfort of the shoe stands above some of the other indoor options because of the Boost tech, the build and shape of the boot just leaves you looking for a bit more when you throw them into play.


With the Messi FreeFootball Boost, there may not be another boot able to function on so many different levels that you can currently find on the soccer market. However, when it comes to shoes made solely for life off the pitch or shoes only for use in short-sided play, there are better options available. Add in a fairly hefty price-tag on the current indoor market, and it might be a tough sale. But, as anyone that has used the adidas Boost technology will tell you, it is very impressive (and shows a very positive move for the three stripes and their future with short-sided gear). Go check out a pair from our friends over at SoccerPro.com and see if the Messi Boost can fit all of your needs!