It isn't every single day that we see players outside of kickers in the NFL sporting soccer cleats, but a few members of the Miami Dolphins decided to break the mold. While the kickers were sporting some sweet kicks (Green Bay's kicker rocked a Nike Premier and Miami's kicker was wearing a Nike Tiempo), it was two members of the Miami secondary that really caught our attention.
While the second spot is my personal favorite, the more obvious of the two was Miami's Louis Delmas wearing a pair of the Hyper Turquoise Nike Magista Obras. While the boot may not match up with the protection needs an NFL player may hunt for, the color combo that matches up with the Miami jersey was too much for the Miami safety to pass up.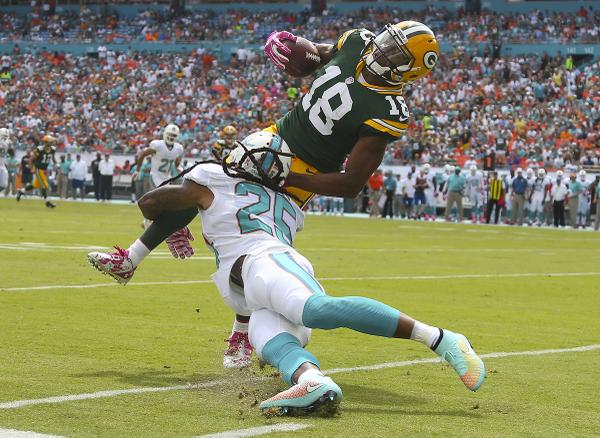 A great look on the field, it would be a great boot for more Dolphins players to sport. Considering the strict NFL rules about color combos, it is rare that a boot is close enough to a team's colors for this situation to occur. However, there is always NIKEID…
Which brings us to our second spot…after looking for more pictures of Delmas and his Magistas, I kept getting more and more intrigued by the footwear of Reshad Jones. After finally stumbling on a pic that sealed the deal (in my mind), it looks like Jones is wearing a pair of NIKEID SuperFly IV's.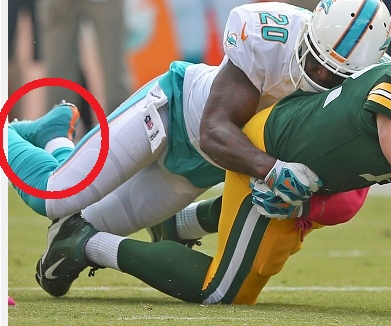 While the first two pictures are anything but definitive, (and, despite it being a bit blurry) the picture of the soleplate shows the hybrid stud pattern of a Nike soccer cleat. Jones is also a safety for the Dolphins, and his position always calls for a boot that provide for quick direction changes…a role that the SF can definitely fill. Perhaps Jones became enamored with constant talk of the SF being a "speed" boot as a safety can never be too fast. The only odd thing is that both Miami players chose a soft ground stud configuation for a stadium that uses an extremely thin natural grass playing surface. Every other player on both sides of the ball either used cleats with extremely short studs or even used football cleats with flat outsoles!
It is always fun when soccer equipment sneaks into other avenues. I have often seen tons of recreational sports players preferring soccer equipment because of its lightweight nature and great traction. Be it baseball/softball, American football, ultimate frisbee, or any other sport played outside; soccer equipment is a great option. Having already seen a fair bit of soccer gear in the NFL over the past few years, we hope we get to see more!