In a world obsessed with knitted materials, hi-top collars, and revolutions, Puma seems to be quietly creating a fantastic roster.  From a high quality King, the newest evoPower, and the incredibly lightweight evoSpeed SL, nearly everything that the big cat touches is turning up trumps.  What should Puma do in order to raise their profile and show off their latest and greatest?
How about sign USMNT captain and midfield general Michael Bradley?  Yeah…that'd work.
Puma has announced that Bradley has put pen to paper on a long-term deal that will see the midfielder wearing Puma boots and gear for the foreseeable future.  Judging by press pictures and the keen eye of boot-spotter Jordon, Bradley is going to be rocking the evoSpeed SL in his appearances.  It has been amazing to see all the different types of players choosing Puma's lightweight option, and Bradley (considering his playing style) is another interesting combination.  We would have thought he would have been perfect in either the King or evoPower…but, the lure of 101 grams must have been too much for Bradley.
The move is a no-brainer for both player and brand. 
For Puma, their roster of Puma players within the U.S. national team ranks is non-existent.  Whether on the USWNT or USMNT, Puma has been blocked out by the Swoosh and the Three Stripes.  In fact, Under Armour even has more American internationals on the books than Puma…so bringing in a player of Bradley's profile will only help raise Puma's presence in the States.
For Bradley, the lack of any major Puma players within North America will allow the Toronto FC midfielder to raise his own status within the game while sporting Puma.  Considering how many players were on Nike's roster, it is also highly likely that Puma saw more value in Bradley.  Bradley joins a very strong group of names with Puma's European roster, and he won't mind being in ads featuring Sergio Aguero, Marco Reus, and Cesc Fabregas (to name a few).  Bradley said about his move, "I couldn't be more excited to join Puma and the roster of strong and talented athletes already in the family.  Their 'Forever Faster' positioning is not only the perfect fit for my soccer game, but also fits with my lifestyle off the pitch."
PUMA named Bradley due to his consistent place as one of the best players in soccer. Tara McRae, Senior Vice President of Brand & Marketing at PUMA North America commented, "Over the past decade Bradley has proven to be a key player and leader on the US National Team. This, along with his speed, touch and overall power on field has really impressed us from the beginning and makes him a great brand fit and Forever Faster ambassador."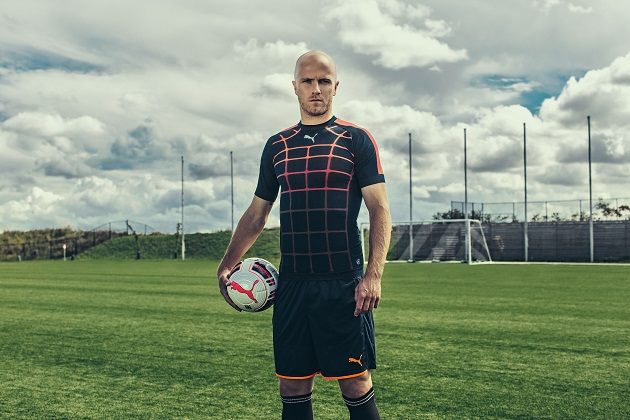 Bradley will be debuting his new boots in the extremely high profile match-up between the U.S. and Mexico on October 10th.  Bradley and his teammates will be hoping to christen his new relationship with a big-time 2-0 (Dos a Cero) victory!  
A massive move for both sides, we can't wait to see what this relationship produces in the future!
What do you think?  Is this a smart move for Puma?  Bradley?  Are you surprised that Bradley is opting for the SL?