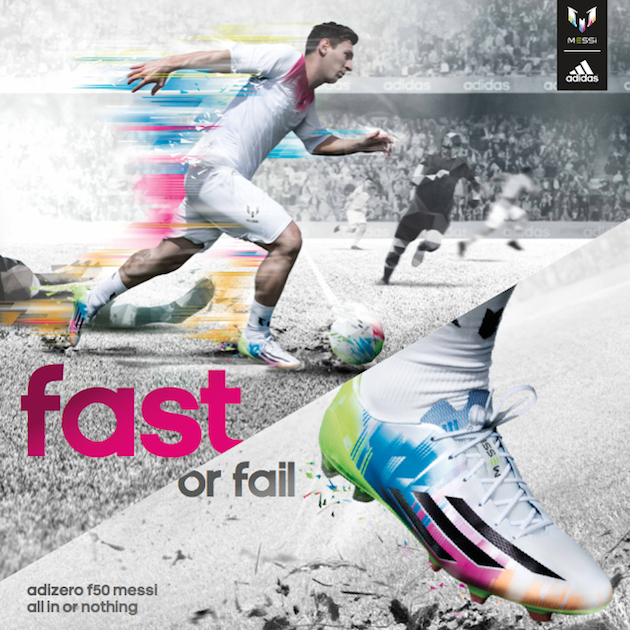 He's baaaack – and not just on the pitch. After coming off a recent injury, Lionel Messi has scored 4 goals in his last 4 games. However, it is the return of his signature F50 range of adidas footwear that is making headlines today. The new multicolor boot is Messi's first since the new F50 adiZero came out in November. On the marketing front, "Fast or Fail" is the latest tagline. You can see adidas attempting to connect Messi's speed with the new design of their trademark speed boot.
The shoe itself has a white base with the bright Samba colors dripping vertically down the sides in orange, pink, blue, and green. You might recognize that each of those colors were used on adidas' Samba pack release for the F50, Predator, the F50 again, and the Nitrocharge, respectively. The black Three Stripes on the upper look sharp when contrasted with these bright flashes of color.
On the heel, you will see the Sprintframe that comes with the F50, as well as the Messi "M" emblem in black. The soleplate is green (or Solar Slime, if we're going with official adidas colors) with pink studs. Most unique about this boot is its color scheme. Adidas has avoided the two-block color look that usually dominates soccer cleats on the market. Much like Ronaldo's Galaxy Nike Vapors, Messi's new adiZeros sport a bold design unlike most other boots. Even though he won't be wearing these at the World Cup in Brazil, the drips of color create a dynamic-looking shoe that keeps adidas' Samba momentum going. This is a risky move, considering many boot-lovers scoff at a different design on the upper. There's no doubting this will be a popular shoe (I mean, it's Messi), but will it gain the traction adidas hopes it will with its untraditional look?
These are coming in at $229.99 retail price (or $206.99 at SoccerPro), which is $10 more than the other F50 options (the Messi Premium, I guess). Lionel himself will be sporting these on field in the first leg of Barcelona's Champions League knockout round versus mighty Manchester City. Watch the game tomorrow (the 18th) to see how they look on the pitch.
What are your thoughts on the latest Messi F50 adiZero? Where does the colorway rank for other F50s?