It seems crazy to think that, with all of the focus that the three stripes has placed on the recent ACE launches, adidas still has other boots on the roster! While we are going to have to wait a bit longer for a total boot overhaul, adidas has decided to drop a new colorway for the "chaos" side of the revolution. Please welcome the brand new adidas X 15, complete with black/shock pink/solar gold.
For anybody that has been following boot releases here in 2016, adidas has been letting them fly thick and fast with constant colorway updates and new releases (and we're barely into February). While the PURECONTROL and ACE 16.1+ PrimeKnit might certainly be headlining things for the German giants right now, the X is still being rocked by some of the best players currently on the adidas roster. Look for Luis Suarez and a host of others to slip into this classy (yet, still bold) release.
Although we love the colorway, adidas is doing a lot of simple color flipping with their releases. We saw them release alternating ACE colorways with one predominantly green boot with black accents, and another booth that was predominantly black with green accents. For the newest X, we see adidas simply flipping their last round of X boots that were dominated by the solar gold on the upper, to a boot that uses the solar gold as an accent. The boots we are seeing from adidas are certainly pushing the boundaries and living up to the hype of a "revolution," but we would love to see a bit more color originality coming out of their creative department.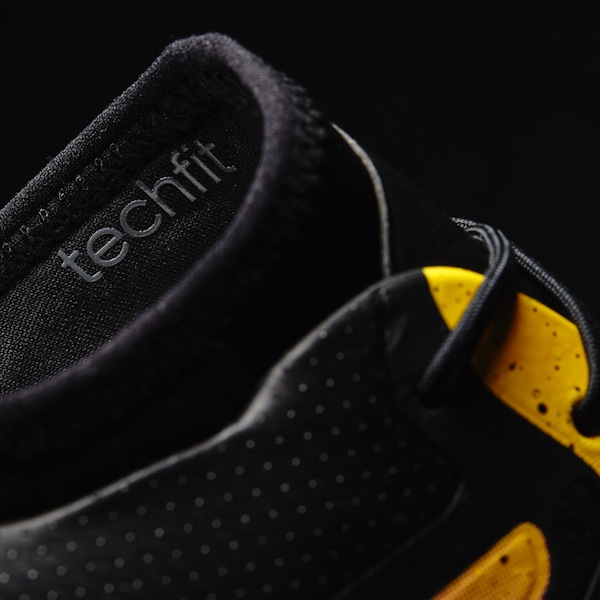 The X has been heavily reviewed here at The Instep, and we've enjoyed every version that we've gotten our hands on. From the standard X to the PrimeKnit marvel, you really can't go wrong with one of the original members of the "revolution." A quality synthetic upper, X-Claw stud configuration, and some serious tech packed into a little ball of chaos means the X 15 is a boot worthy of your consideration. It will be interesting to see where adidas takes the boot silo before the end of the year, but we're more than happy to continue entertaining the X 15.1. No matter how you outfit chaos, it's still going to run rampant on the pitch. Be ready.