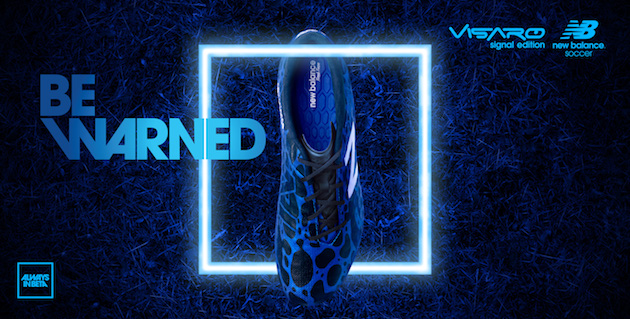 New Balance is truly starting to take the steps that we'd see from seasoned brands that consider themselves legitimate contenders. By keeping their silos to a minimum and ensuring that they quickly improve on any boots that aren't a hit with consumers, they've allowed themselves to grow at a rate befitting of the American brand. Factor in several kits with clubs in Europe and elsewhere, and New Balance is certainly either ready to stand up and be counted, or doing a fantastic version of "fake it until you make it."
A step that they've taken this year that makes them feel a bit more legitimate is the launching of limited edition boots. With the first limited edition release being the Furon Apex, New Balance has now released a limited edition version of the Visaro: the Visaro Signal Edition. A boot that is extremely eye-catching and, like the Furon Apex, takes a departure from the solid block colorways that New Balance has employed in the past. It's a cool look that makes us feel like NB would discuss the players that use it being calm under pressure, but that's not quite how New Balance views it…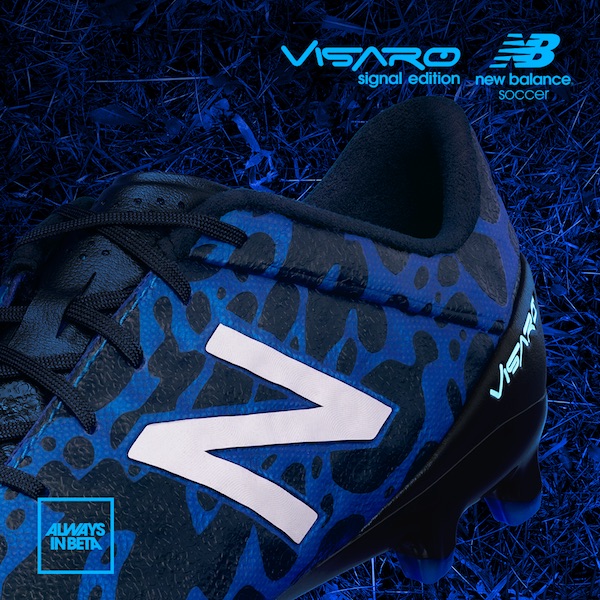 The colorway, known as Galaxy black and Ultraviolet blue, creates a camouflage pattern that, instead of allowing something to fade into the background, actually causes the boot to stand out. Taking inspiration from the poisonous Dart frogs of the Amazon and its rain forests, this pattern, coupled with the name "Signal," is meant to act as a warning to any and all that catch sight of the boot. Like the frogs, the boots may look pretty and inviting, but the end result of an encounter with them might be a swift and concise game over.
READ: New Balance Visaro review
Outside of the colorway, we get the standard Visaro set-up that had our own Hunter York and other reviewers praising the boot that New Balance had created. A Vari-Zone Ariaprene upper that has a nice blend of stretch and padding to lend itself nicely to comfort and a quick break-in while still giving a great feel for the ball. A wealth of New Balance tech in the soleplate that provides good traction while still being responsive. Some slight padding in certain spots on the upper to help aid in addressing the ball, and you have everything sitting on New Balance's Fresh Foam insock to only up the comfort level. For their first non-Warrior effort, it's no surprise that New Balance is yet to update this boot…and we're not too mad about it.
Although naming a boot "Signal," isn't exactly our favorite name we've ever heard, it's certainly a continued signal of intent from the brand. The Warrior days are long gone, and the future seems bright for New Balance and their two boots. If you want to snag the Signal, just know that you're going to have to act fast! Hurry and snag them before they leap away!