How can you be a legend of the world's most popular sport at just 22-years-old? Winning a World Cup in your host country is a decent start. Neymar was already one of football's biggest names before this summer. His time at Brazilian club Santos FC announced his presence as the next great soccer star from the land of Pele, Garrincha, Ronaldinho, and so many more. Next, his move to Barcelona last year proved that he could indeed cut it with the best players on the planet. Finally, Nike has used him to showcase their Hypervenom cleats, which debuted July 1st of last year. All this, and Neymar da Silva Santos Junior is still in the embryonic stages of his career.
Today Nike has dropped the curtain on a brand new update for the Hypervenom, right smack in the middle of Neymar's World Cup run. It's a special edition gold makeover on the attack-minded boot. Why gold? Just a decade ago in Santos, Brazil, 12-year-old Neymar would spray paint his football cleats gold because he couldn't afford to actually buy shiny new boots, or so the legend goes. It's a brilliant move from Nike to tell this story of young Brazilian ambition, while that same kid is dominating a Brazilian World Cup. Of course they're getting a little help from Neymar himself, with his four goals through three World Cup group matches.
Alright, let's get to the boot. Nike made sure you couldn't confuse this color for anything other than gold. You could criticize Nike Soccer for being overly fond of its own Volt colorway for the last few years, as they use it on plenty of their shoes and apparel. Here it appears on the soleplate, but it works well to complement the shiny gold just above it. This Midas-touched boot has a stunning aesthetic, almost unapproachable in its grandeur. The bright yellow Nike Swoosh on the toe and heel even has streaks of gold leaking through, a wonderfully subtle touch.
Of course, this being the Hypervenom Phantom, it still has the signature Nikeskin residing on the upper and the split-toe outsole. It's a classy boot from afar, but when you get closer the impressive details shine through. On the sockliner of the left shoe, there is text that reads "Sonho Dourado", or "golden dream" in Portuguese. Listen to this song from the Friday Night Lights soundtrack and tell me you can't see this playing in the background of Neymar's World Cup 2014 montage.
On the right shoe, you have a graphic of the Hypervenom with a spray can next to it, representing young Neymar's habit of painting his boots. These are excellent little touches that make this golden Hypervenom update so memorable.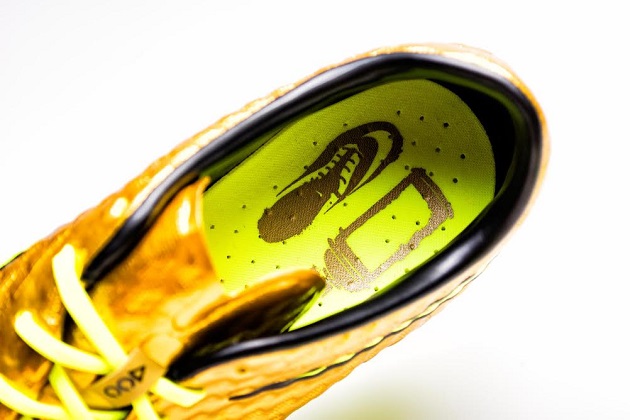 However, you know what would make it even more memorable? If Neymar is wearing these while lifting the Jules Rimet trophy on July 13th, 2014 after a Brazil World Cup victory. His legend is just starting to be written, but he's off to a magnificent start. Can he lead Brazil to the promised land and make them forget the horrors of the 1950 World Cup final in Rio? That's plenty of pressure for someone so young. Brazil's first test in the knockout round comes against Chile, one of the tournament's dangerous dark horses. Neymar Jr. – and his gold boots – will be front and center.
What are your thoughts on Nike and Neymar's latest Hypervenom look? They go on sale June 26th. Make sure you grab them at SoccerPro.com.