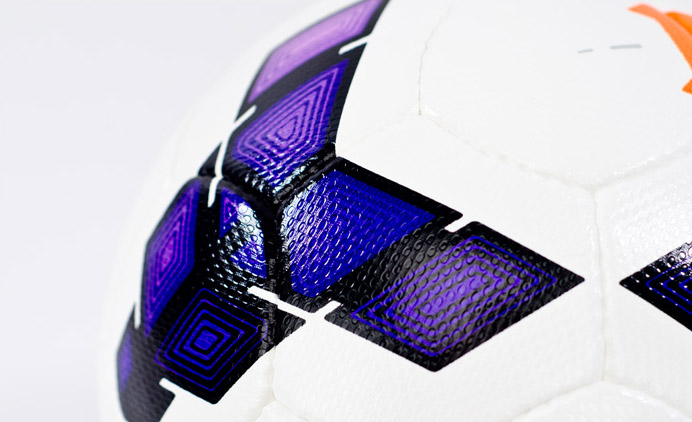 Although we spend most of our time covering boots and reviewing other soccer related footwear, we do occasionally test other products.  After recently receiving the most recent Nike match ball to hit the major European leagues we decided to throw it into the mix and see how it stacks up against other balls on the market.  Is it worth it to get the top end match ball?  Or, is it a waste of money?
The newest Nike ball has Nike's RaDaR technology claiming that it is easier to see the motion of the ball as early as possible during flight and the design looks great.  The ball also is constructed so that it can be pumped up to required air pressure but it will still have a slight cushion.  When you pump up cheaper balls to the required air pressure or slightly above, they have no cushion and they tend to sound like kick balls from when you were in elementary school.
The ball is a dream to play with.  Taking it out of the air, playing short passes, or smashing it towards the goal all have a great feeling as you address the ball.  Add in that the ball has the added technology that allows it to fly as accurately as possible and you definitely fall in love with this ball as soon as you start playing with it.  The texture along the outer casing of the ball also doubles as added tech to help the ball from slipping off your foot in bad weather conditions.
In comparison to other brands and their top match balls, Nike seems to be a few steps ahead in terms of quality.  Although the current Adidas match balls are fantastic, the Nike Incyte is definitely the first ball that everyone wants to take out of the ball bag.
The biggest question with these top tier balls is whether they are worth $150.  The Incyte had an uphill battle with me as I would have never thought that price could be justified, but the two year guarantee that comes with the Incyte attached with the great performance that you get with the ball definitely justifies the price tag.  If you have a chance, head over to our friends at SoccerPro.com and snag one for yourself!