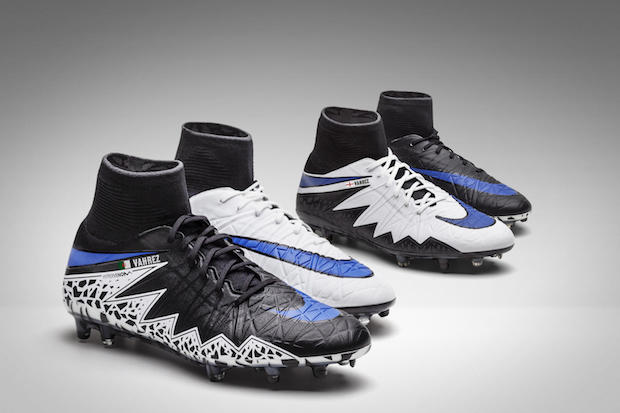 As if becoming the most unlikely champions of English football wouldn't be enough for the dynamic Nike duo of Jamie Vardy and Riyad Mahrez, it seems that the Swoosh has decided to give the pair's final game of the season some extra meaning. The Leicester stars donned (and definitely continued to showcase their skills) the 'VAHREZ' Nike ID HyperVenom Phantom II in their last match against Chelsea. While Leicester might have been devoid of any "cash value" to the big boot brands at the beginning of the year, it's unsurprising to see Nike cash in at the height of Leicester's fame.
The Champions are here.
While the first few images had us thinking that the boots were identical, there are a few differences between the two boots to make it specific to each player. Vardy's right boot is composed primarily of white while his left boot is black, combined with an English flag placed near the heel of the boot. The boots crafted for Mahrez have the colors flipped, as the left boot is white with the right boot being black. Also, Mahrez sees the Algerian flag placed on his HyperVenoms. The Swoosh is also a Leicester-styled blue with the soleplates standing in stark contrast to the color of the upper. Would we love to see this as a standard release? Definitely. Would a Puma Tricks-style Hypervenom be very successful? No doubt.
When asked about what the boots meant to him, Mahrez had this to say, "Jamie and I took unusual routes to get to here and this helps our partnership – I'm honoured to wear these boots as symbols of our achievements this season." Vardy was also praiseworthy of his teammate, "I've worn some special boots this season and these stand out. The last game of this season is going to be an occasion, and I appreciate the understanding have with Riyad – it's something I'm proud of and the boots reflect that."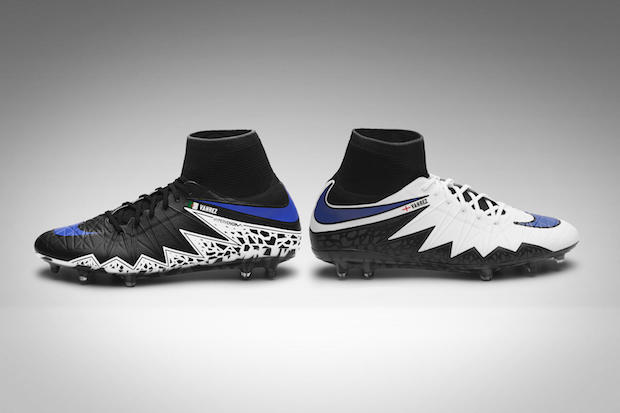 Special boots for special players and an extremely special season. It will be interesting to see if either of these two players stay at the top of Nike's priorities with us entering into the summer and the upcoming 16/17 season, but we're a big fan of the 'VAHREZ' boots. Congratulations again to the heroes of Leicester.