The Nike Magista Obra II is here and is taking the world by storm with its flashy looks and incredible touch. The launch colorway featured a heat map design that showed where some of the world's top midfielders control the ball. The new Pitch Dark Pack colorway gives us a darker look at the Magista Obra II color option. The majority of the upper (nearly all of the boot) is black with the Nike Swoosh outline colored in as Total Crimson. Of course with every top boot, you receive a string bag that features the same colorway as the boot.
The Magista Obra 2 has changed from the original Obra with the upper switching from the honeycomb pattern we saw on the Obra 1, to a more textured design that is raised in some higher use areas and lowered in some less used zones. The upper is still Flyknit and still features a thin layer of Nikeskin and ACC technology to help with grip and to keep the knitted upper in tact for longer.
The dynamic fit collar has gone through its first change as well since being introduced on the first Obra. The collar features thicker areas in the middle of the collar that are almost like pads, that help in pulling on the Obra and may even offer a little bit of extra ankle protection while playing.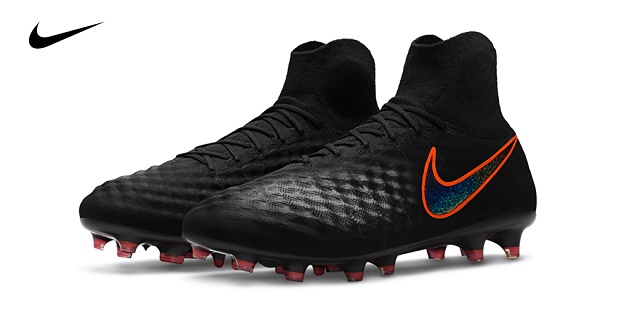 On the inside of the cleat, Nike has included Flywire technology to lock in your foot for the entire ride. Flywire technology has been used on the new Hypervenom and the Superfly IV and V in recent memory and all boots have fit perfectly.
The soleplate has changed completely from the first generation to the second. New bladed studs that resemble the old CTR360 soleplate are right under the big toe. The conical studs are gone and have been replaced with rounded studs that are facing in varying angles to give the athletes the optimal traction. The heel counter and midfoot support have both moved internally compared to the external one we found on the Obra 1.
So that's it for the new Pitch Dark Pack Magista Obra. What are your thoughts on the new colorway and new boot in general? Let us know your thoughts below, we love hearing what you all think of the latest and greatest cleats on the market.