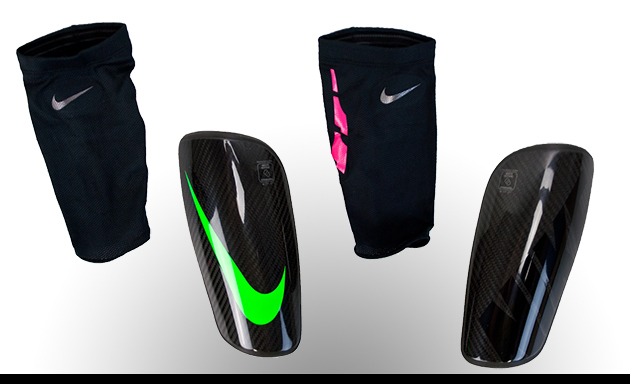 For one of the most price-conscious young men in the world (a big claim, I know), I really cannot believe that I am about to talk positively about a pair of shin guards that cost almost $100.  Until I started working for SoccerPro a few years ago, I used to view shin guards in the same way that I viewed soccer balls- buy as many decent and cheap ones as you can…minus buying a bunch when it came to shin guards.  I always thought that my cheap $10 shin guards were just fine and that I would never need a different pair.  However, after getting a pair of Mercurial Blades, I ended up tossing my F-series shin guards from 2005 out with the morning trash.
Firstly, I am "that guy" that typically plays without shin guards.  However, all of the adult leagues that I take part in require shin guards so I make sure that I always have a pair in my bag.  For me, I want something that will keep me from writhing on the ground in pain after a swift kick to my shins and a shin guard that will have zero effect on my game.  The worst feeling in the world is when you attempt to control a ball and it shoots off in some random direction when it collides with the typically bulky shin guard.  The Mercurial Blade fits the bill and then some.
With the carbon fiber construction, these shin guards will stand up to some serious abuse and they will last for as long as you can play.  The back side of the guards also have a nice layer of  foam that provides comfort and helps prevent you from feeling any impact.  Also, because of how Nike have created the foam, the sweat doesn't sit between your shin and the guard until after you get done playing.  Also, if you get the correct size, the fit is great and these guards cover the perfect amount of leg without becoming bulky.
The shin guards also come with a great sleeve to keep your shin guards in place for the full ninety.  These sleeves are also great because they avoid most of the common "shin guard sleeve" problems that I have run into.  They do not cut off circulation, they do not hold sweat, they are not difficult to wash (toss them in the washing machine), and the graphics do not peel off after many uses and washes.  It also avoids slipping down during play and makes sure that they are always exactly where you need them.
I still cannot quite believe that I am suggesting a $90 pair of shin guards, but these are the best available on the market!  They are NOCSAE approved which means that they meet all of the standards necessary for all youth and adult leagues.  If you are looking for new shin guards and if you want to use the best, then snag a pair of these!  You can always find them for a great deal over at SoccerPro.com!