Love him or hate him, there's simply no denying Cristiano Ronaldo's status as one of the game's best.  The polarizing Portuguese is a once-in-a-generation player, a man whose dominance and accolades will be compared against football's legends when he hangs up the boots.  While form is temporary, class is permanent, and Ronaldo is in a class all his own.  So it's only fitting that CR7 have his own signature line of cleats, and that they'd be part of the Nike Mercurial Vapor line.  You see, Mercurial Vapors are the superstars of the boot world, and the Vapor IX is no exception.  When I was tasked with reviewing the new Nike Mercurial Vapor IX CR, it came at a time when Ronaldo was going on an absolute goal-scoring tear.  CR7 had netted 50 goals for club and country, and it was only April!  When Cristiano first debuted the Vapor IX CR's on the field, he broke them in with a goal against Real Zaragoza.  This was followed by scoring goals in each of his next 4 games.  5 games, 7 goals total in his new boots.  Needless to say, I couldn't wait to get my hands on a pair.
As you begin unboxing the Vapor IX CR, you can't help but have the same feelings you did as a kid on Christmas morning.  The excitement, the mystery, the anticipation – palpable emotions that let you know something amazing is about to happen.  And as usual, Ronaldo and Nike do not disappoint.  You'll immediately notice the striking colors of the Vapor IX CR, white/total crimson/volt as Nike calls it.
They've drawn inspiration for this colorway from the cycling world, where the "Rainbow Jersey" is given to the World Champion to make him discernible from the rest of the field – a particularly fitting concept for perhaps the most flamboyant footballer in the world.  The next part of the boot your eyes are drawn to is the Nike Swoosh.  No, your new Vapor IX's aren't infected, this spotted detail is actually Nike's own Safari print, and is a reference to Ronaldo's searing, cheetah-like speed.  Further examination reveals more details at the back-heel, including Ronaldo's iconic #7, "MERCURIAL" lettering, and his "Love to Win, Hate to Lose" crossed-heart logo.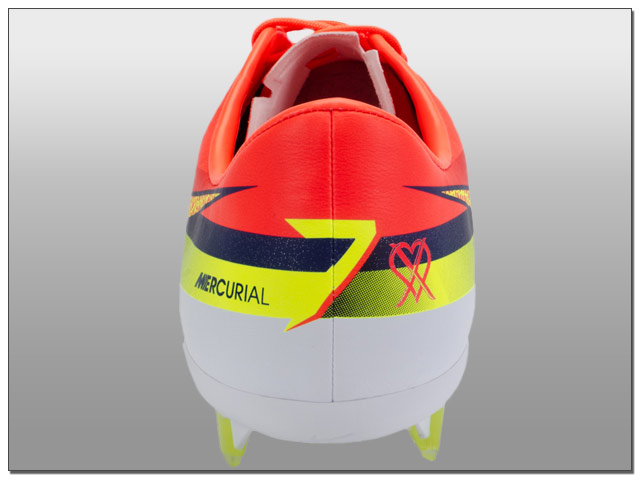 When you lift the shoe from its box, something quickly becomes apparent – these boots are about as light as they come.  Nike employed the use of the same Japanese micro-fiber that the Vapor VIII was built with, a soft Teijin material with a leather finish and mere 7 0z. weight.  The looks alone don't do these cleats justice, no, you need to lace 'em up for youself.  As I walked around the office in a pair, I was hard-pressed to think of a more comfortable boot I've ever worn.  The contoured, perforated sockliner provides low-profile cushioning.  The soft, minimalist heel counter helps lock down your foot comfortably.  With that being said, the Vapor IX CR's true stage is the pitch, and there it again exceeded all our expectations.  The low-profile toe box helps you to get under the ball and improves your shot control.  The asymmetric Vapor traction uses two layers of glass fiber composite and geometrically placed direct-inject TPU studs to deliver unrivaled acceleration and optimal cuts in any direction.  Nike All Conditions Control (ACC) delivers enhanced ball control in any weather conditions.  This all translates to a down-right deadly scorer's cleat.  If you're looking for superior speed and performance in a stylish Ronaldo-inspired package, look no further than the Nike Mercurial Vapor IX CR Soccer Cleats!