Like present-day Roger Federer, the Mercurial Vapor used to be the star before the Superfly IV started grabbing all the headlines. The same thing happened to Rog a few years ago when young guns like Rafael Nadal and Novak Djokavic usurped his throne and started lifting trophies in his stead. Because of this, it's easy to completely overlook the Vapor. However, that doesn't mean – like Federer – that it can't still hold its own.
With the release of Nike's Highlight Pack, it's clear the Vapor's glory days are not totally behind it. On the contrary, this is a glorious-looking boot. With its Volt and Hyper Pink colorway, that upper is positively beaming. Nike have used their bright yellow Volt color on just about everything these days, but you can't say it doesn't draw the gaze of everyone that comes near. Also, that contrasting Hyper Pink really pops on the Swoosh and inside lining. Then there is the outsole, which was given the sparkling dark blue tint treatment. A counter-intuitive choice, it actually matches up well with the brightness of the other two colors.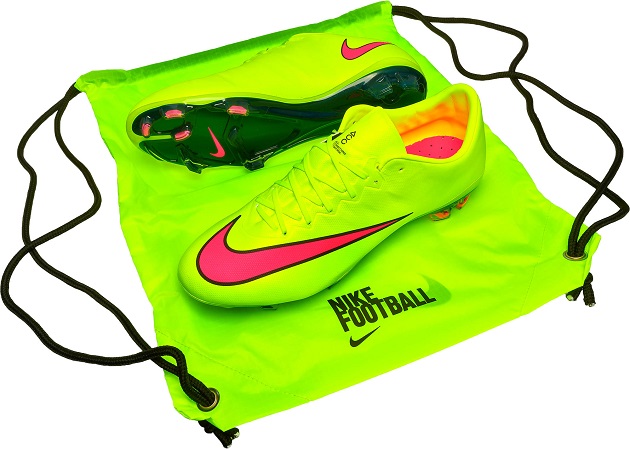 While the Vapor may not have the gorgeous Dynamic Fit Collar of the Superfly, it still greatly impresses on your foot. I mean, just watch any Champions League match and you will see several of them (no-names like Zlatan, Hazard, and Sterling) opting for the Vapor X over the Superfly IV. Why would that be? Well, some aren't crazy about the collar (even Cristiano, the face of the Superfly range, chops his collar down a bit), but the other aspect is that the Vapor remains a high quality boot. It's really difficult to find a better lightweight barefoot feel, because of the Teijin micro texture material. Your foot rides on top of a compressed nylon chassis, which means the soleplate is light enough to quickly explode up the field, but stable enough to provide a comfortable experience.
Just because the Vapor is no longer the Mercurial silo's top boot doesn't mean it's not capable of winning a title now and again. Much like Federer during Wimbledon 2012, this Volt Vapor has proven that it can make a rapid resurgence at any moment.