The Nike Mercurial Vapor X is traditionally designed for the attacking forward. It is a cleat that is built for quality feel and explosive performance. However, in my testing of the boot as a former goalkeeper and currently as a goalkeeping coach, the Mercurial Vapor X is suitable for all positions. The boot refuses to be limited to the attacking player because of its light weight and athletic design. It is a field player and goalkeeper's dream, as it is form fitting, single tongued, and stable.
At first sight, the boot is vibrant in color, appealing to the most fashionable and hip soccer player. In my opinion, the color of the boot is on par with the current trends of the soccer community. When I first examined the Vapor X, it appeared long and thin with minimal space at toes end. My hesitation to wear the cleat was justified by my first impression, as I have always worn wide-based Nike cleats. However, upon slipping the cleat on, my anxieties were lifted as the soft, thin synthetic and resiliency of the form fitting boot was made apparent.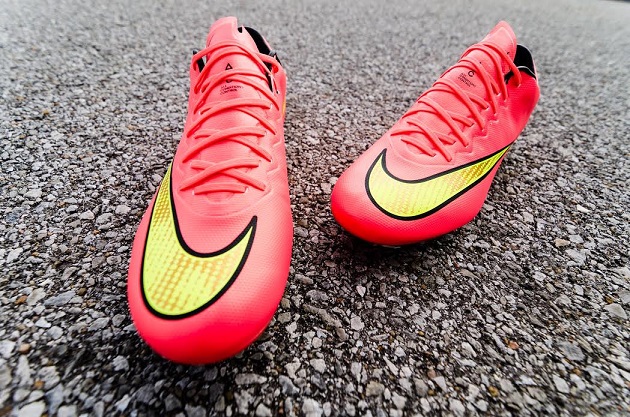 The cleat was tested in dry weather on natural grass and artificial turf alike. In either condition, the boot was comfortable and felt like a glove on my feet. The feeling of the cleats under the shoe was comfortable and unnoticeable.
The majority of the testing of the cleat was in a goalkeeping environment, where I spent the majority of the time striking balls either through shooting or crossing. Having worn multiple variations of Nike cleats, the Vapor X is, hands down, the best for ball striking that I have experienced yet. The bladed cleats allow for optimal torque in ball striking and the soft leather allows for a natural, optimal feel on the ball.
The cleats were also tested in demoing goalkeeping activities which include but are not limited to: diving, jumping, footwork, handling, and explosive movements. Though thin and light, the laces, casing of the cleat, and bladed cleats provided a stable base for movement.
In my testing and opinion, the Mercurial Vapor X FG is a quality boot suitable for the attacking player and goalkeeper alike. From their initial moment of testing through a month of training, camps and clinics, the cleats did not give me any trouble or blistering. They were an immediate success and I would recommend the boot to anyone looking for a comfortable, performance-enhancing fit.