Nike Releases a Limited Edition Piece of Soccer History
Nike soccer shoes have been on the cutting edge for a long while now as far as tech is concerned… But today Nike has dropped a blast from the past with "The Nike" 1971. Now that's a retro!

Let's start from the beginning…
To really understand how "The Nike" came to be, we first have to take a brief look at Nike's progression as a company. Nike was called Blue Ribbon Sports at the time, and they were a mere distributor for Tiger brand running shoes for a company called Onitsuka Co. from Japan. Don't recognize the name? That company would eventually be named Asics… What a small sporting world!
Striking it out on their own
Blue Ribbons Sports was having issues with Onitsuka Co. so they decided to visit a factory in Guadalajara, Mexico in 1971 and ordered some soccer shoes. The factory that Phil Knight visited was called the Canada Footwear Factory, or La Canada, and it was founded in the 1940's. The Model of shoe that they chose was called the Mundial-70, which was made for the '70 World Cup in Mexico. La Canada shoes often came with a "lucky horseshoe" keychain. Blue Ribbon Sports kept the keychain on the first couple runs of "the Nike". Another very important feature was the Swoosh. "The Nike" would be the first shoe to feature the Swoosh. The keychain comes included in the retro version as well!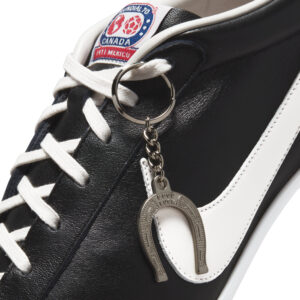 Learning lessons from The Nike
Seeing as how the shoes were produced in Mexico, they quickly ran into issues in the States. The Nike performed well in Mexico, but what BRS was not expecting, was the change in weather. The Nike ended up being a failure. The soleplate would crack virtually in the same place in colder weather, the shoes wouldn't stay together, and eventually, Phil Knight put a pause on the soccer efforts to focus on running again. While Nike's maiden voyage into the world of soccer was not a smooth one, Nike decided to learn from it, and look at where they are now! Grab a piece of soccer history for yourself!