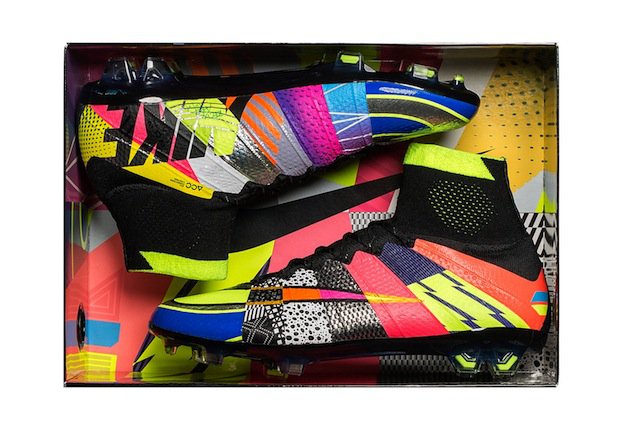 If this is what life is like a whole month before the European Championships, then the big boys are certainly setting us up for a show-stopping summer. To brighten up your Monday, Nike decided to lift the lid on their latest limited release, the "What The" Mercurial. In terms of being an homage to a boot silo, nobody does it better than Nike with this release. Combining a total 18 different colors and over a dozen past Mercurials, this is certain to set off a feeding frenzy among the Nike faithful.
A trailblazing silo, to say the least, the timeline of the Mercurial reads like a hall of fame listing for boots. With nearly every iteration gracing the biggest stars of the game and taking part in some of the most memorable goals, it is a nod to the entire legacy of the boot that is only a few shorts weeks away from a major face-lift. While the upper might be the most notable area of Mercurial history, the sockliner also is adorned with small images of the boots that were used to inspire the upper.
This isn't Nike's first foray into "What The" releases with two previous shoes hitting the market. Nike's "What the Dunk" paid tribute to the brand's long history with skateboarding, and the "What the Kobe" was a fitting nod to a basketball legend and the sport that Kobe dominated in. However, never a brand to rest on success, the "What the Mercurial" is the first "What the" release that can actually function. Although, we find it fairly difficult to imagine someone wearing these onto the pitch…
Much like the recent Camo Pack release, Nike is starting to really put a lot of time into the box and bag their special products arrive with. The "What the Box" and "What the Bag" are also serious testaments to the Mercurial and would probably be hot-sellers on their own! The box is covered in random pieces from the Mercurials used to craft the look on the upper and the bag shows every boot (and the iconic part used) that made the final cut. From BHM to Ronaldo (both of them), it's all here.
Limited to only 3,000 pairs and becoming available on May 5th, we expect them to be gone almost as quickly as they'll arrive. The craziest part of the whole deal is that this silo is far from done creating its legacy or defining the history of the game. The magical Mercurial is definitely boot royalty…and it just added another serious jewel to the crown. Bow down.