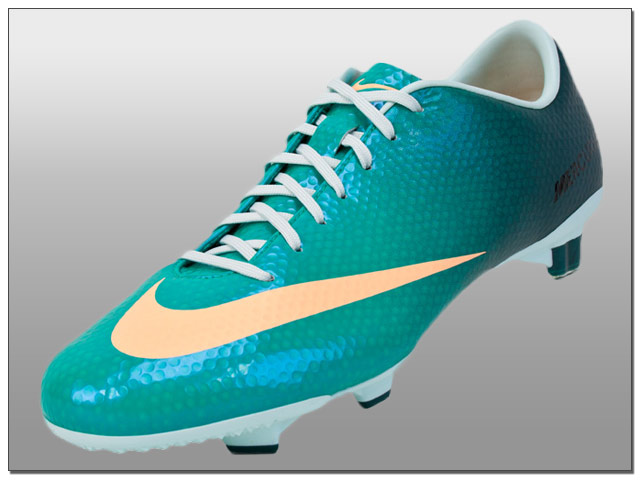 Women's soccer is one of the biggest sports in North America and Nike are giving the ladies game its due by providing this sick pair of soccer cleats. The atomic teal color on these cleats looks great on your feet, but really shines out in the sun as the dimples in the upper catch the light. The swoosh features a beige color that looks more like a common shade of foundation makeup than anything else. You also have "Nike" written along the inner heel of both shoes in white, and a Mercurial call out on the outside heel.
But these shoes aren't just about looks, the comfort and fit are superb as well. Mercurials tend to run a bit narrow, but that shouldn't be an issue for most women, and particularly not with these shoes. Nike have taken the time to measure the feet of all of their top athletes including players like Alex Morgan to find the best fit for a woman's foot. The insoles are contoured along with the upper shape to offer increased support fro your knees and a more secure fit.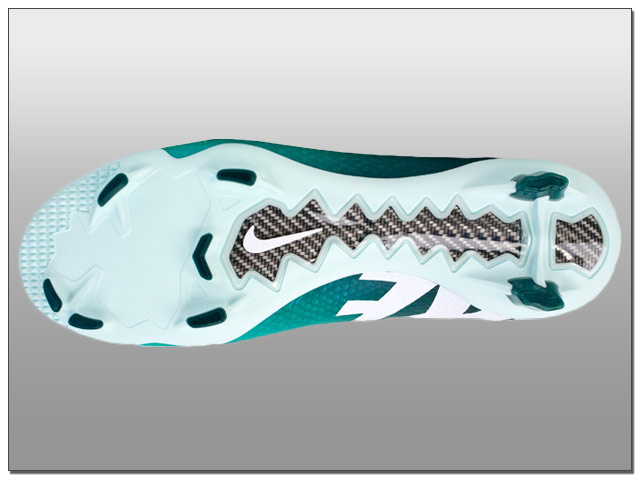 The upper itself is made form Teijin synthetic leather and will have a low water uptake and perform best on firm ground. The speed last keeps you foot in the boots, and the feel of these shoes is very impressive for the price. Nike synthetics have come along way in the last two tears and this upper truly feels almost identical to real leather when you are wearing them. They also mirror the flexibility of natural leather and in terms of feel on the ball the dimpled surface helps with control when shooting. The harder you hit the ball with the dimpled surface, the more of its surface area comes into to contact with the ball, and therefore you'll be better able to get behind those harder shots and passes.
As for the soleplate and cleats, they follow the same design as what you'll see on the rest of the Mercurial line, and will work best on firm ground. The cleat pattern offers excellent bite on the ground regardless of whether you running in a straight line or rapidly changing direction. One caveat, these shoes are build for firm ground surfaces, so if you wear them on astroturf, or any other form of artificial grass, you will end up damaging them over time. Basically, the construction of these shoes isn't made to stand up to the heat and abrasion of artificial turf. Other than that, these area decent pair of womens soccer shoes, and at $98.99, they are good buy. Available now from SoccerPro.com