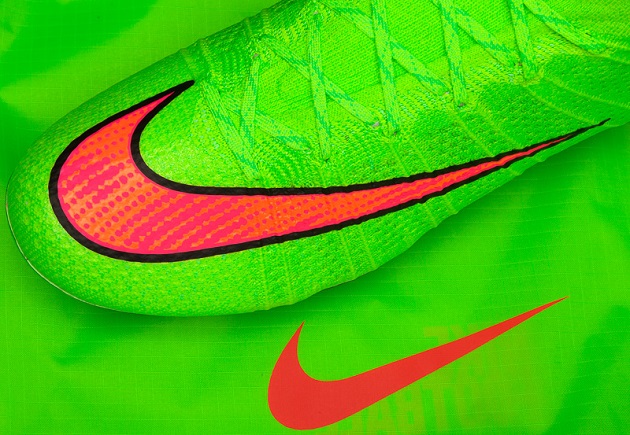 After the success of the Hyper Punch and Black Pack colorways, Nike decided they needed to break out a new look for their Mercurial series. And this time, it's electric (boogie woogie woogie)! The Electric Green color adapts to the Mercurial shoes extremely well. On the Superfly IV, the bright green, Hyper Punch, and black make for a stunning combination. Nike keeps the Hyper Punch color around for this release by filling in the Swoosh with the hot pink-ish hue. Then they finish off the boot with a black ring on the top of the Dynamic Fit Collar, to give it that extra little bit of refinement.
It's business as usual with the Superfly IV, tech-wise. The one-of-a-kind textured upper mixes Flyknit, NikeSkin, and All Conditions Control together for a lightweight and durable fit. Full-length carbon fiber makes up the quality soleplate, to give your foot the most natural feel possible. Finally, the thing everybody notices: the Dynamic Fit Collar covering the ankle, which helps the foot and leg work together with the boot for ultimate mobility and agility.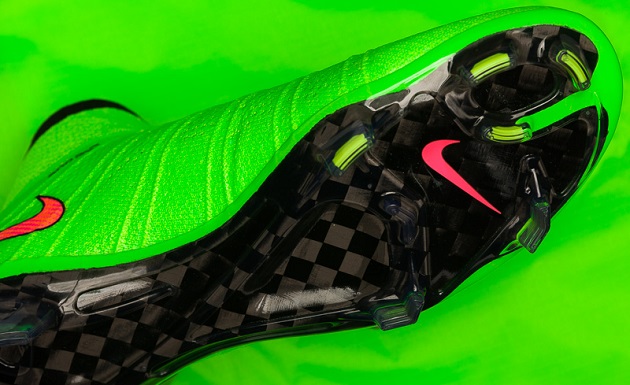 Don't forget about the Vapor X, though. It's still around, hidden behind the Superfly's imposing figure. The super sleek boot comes in the same Electric Green with Hyper Punch accents. Its Teijin upper and micro-texture gives it a lightweight feel that is hard to come by. Instead of a carbon fiber outsole, the Vapor hosts a full-length compressed nylon base that helps the boot stay comfortable and light enough for you to explode through that small opening in the defense. The Veloce II and Victory V have also received the Electric Green treatment.
Although this isn't a Mercurial CR7 exclusive release, this weekend we get to see Cristiano Ronaldo in the Superfly, as he starts his Real Madrid 2014-15 campaign in style. Keep an eye out for that and other pros that may want to go green in their Superfly or Vapor X in the coming weeks. Make sure you check out these brand new kicks at SoccerPro.