Unlike Nike, adidas shoes aren't over saturated with "technology" additions.  Nearly every new shoe from Nike features some sort of new technology for better or worse.  When adidas does release a new feature for their shoes it is well worth looking into.  Two of these features, Energysling and Energypulse, are found on the adidas Nitrocharge soccer cleats.
Energysling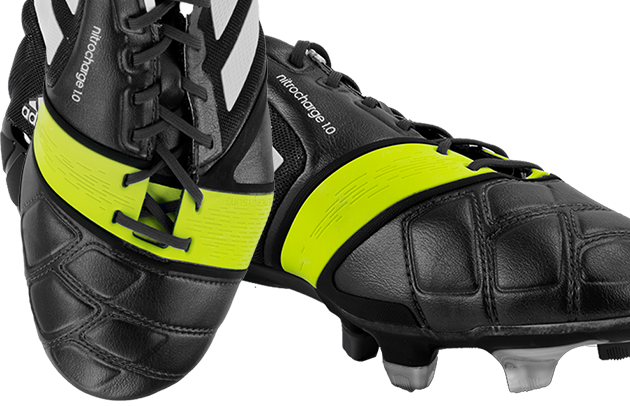 If you've ever had a loose fitting shoe around ball of your foot, you understand how much power and energy that slight slippage causes.  Some players combat this on their own by wrapping their soccer shoe in tape, which can ruin your shoe and looks slightly ridiculous.  Thankfully, adidas introduced Energysling  to prevent this problem.  (shown in adidas Nitrocharge 1.0 TRX FG) According to adidas, Energysling is:
High-elasticity rubber sling supports side-cut and turn movements to dominate the z-dimension distance.
Thats some pretty techy talk for a soccer shoe feature description.  Basically this feature is going to give you much more stability.  Especially when making abrupt sideways stops and when making direction changes. More than anything, I noticed that the Energysling dramatically improves comfort.  Allowing you to tighten down your laces while still allowing the elasticity to expand and contract as needed.  Keeps you comfortable and in control.
Energypulse
Inspired by spring geometry, the high-elasticity Energypulse material provides premium energy output during the toe-off phase to dominate x-(run) and y-(jump) dimensional distance.
The idea behind Energypulse is that it works by acting like a spring for your foot.  Compared to Energysling, this feature is much more difficult to notice while wearing the shoe.  While maybe it does give you more endurance in the game, it's pretty hard to tell after a game if you're more exhausted or not as exhausted because of your shoe.  So while that feature may be hard to prove, Energypulse does seem to allow the shoe more flexibility compared to the adidas silos without it.  The flexibility factor, in itself, makes the feature worthwhile.
In Review
As with all technology in any soccer shoe, it's not going to make you go from novice to expert.  However these features do add some pretty convenient advantages for your game and foot's comfort.  And unlike some of Nike's technological advances, you won't regret having them.  Worst case scenario you won't notice them.  Personally, I'd give the Energysling a 5 star rating, and the Energypulse a 4 star rating for a combined 4.5 stars.  If you have a pair, let us know what your thoughts on the features are below.  Adidas explicitly states that Energysling is included in both the Nitrocharge 1.0 TRX FG and the Nitrocharge 2.0 TRX FG.  However adidas only includes Energypulse in the description of the Nitrocharge 1.0 and just appears to be on the Nitrocharge 2.0.   Both features are definitely absent in the Nitrocharge 3.0 even though it's sports the Energysling "look".