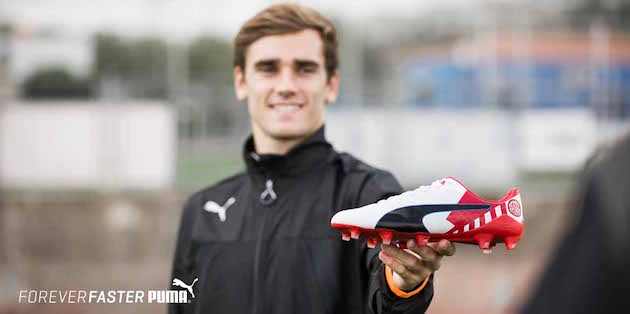 Nothing quite excites the average fan like seeing a game between two teams that absolutely loathe each other. Whether created through proximity, mutual success, or just sheer results, soccer has created some fantastic Derby matches. Puma is looking to showcase these games, and take advantage of the spotlight that they receive by crafting boots for 8 of their players as they take part in this long-standing footy tradition. The second custom set has been crafted for Atletico Madrid's Antoine Griezmann as he gets set to try and dismantle Real Madrid in his Puma evoSPEED this weekend.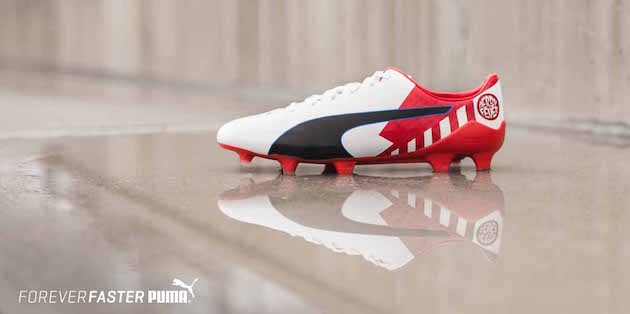 The first thing to discuss here is, obviously, the boots. A stark white coat on the forefoot gives way to a black Puma Formstripe, and then a very colorful heel. Any fan of Spanish football will quickly notice several homages to Atletico Madrid. The red stripes, blue detailing, and overall look of the boot leave no doubt as to what crest Griezmann has on his chest when the big matches roll around. Having already been very successful when attempting to topple the more well-known side of Madrid, these will certainly be boots that can strike fear into Los Blancos backline.
Sadly, the headline for these, and the original "Derby Fever" boot from Puma, is that we might not actually get to see them be used! Santi Cazorla's boots didn't even make the bench for the North London Derby, and Griezmann is battling a foot injury and isn't a guarantee for Simeone's squad at the weekend. Now, considering Puma is going to try this another six times, we doubt that this bad luck can continue for much longer. Plus, Puma can just shelf these boots until the Derby comes back around again in the spring…so, not a total loss. We just hope that we finally get to see one of these "Derby Fever" creations actually getting to experience a proper Derby!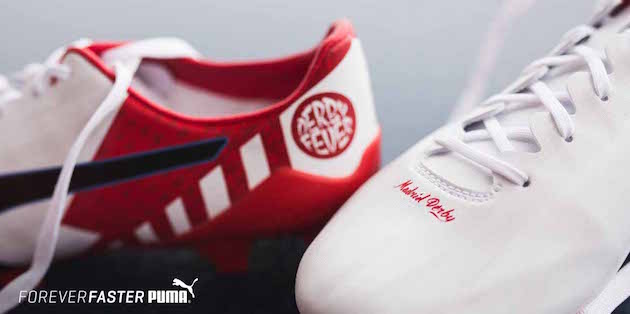 Who do you think will be one of the next Puma athletes to receive the Derby Fever treatment? We've got an eye towards Adam Lallana possibly getting fixed up, and definitely Sergio Aguero lacing up in something special for a Manchester Derby. No matter who gets the boots, we're probably going to be watching from the comfort of our couch thinking that we need to get ourselves a pair. Derby Fever, catch it!