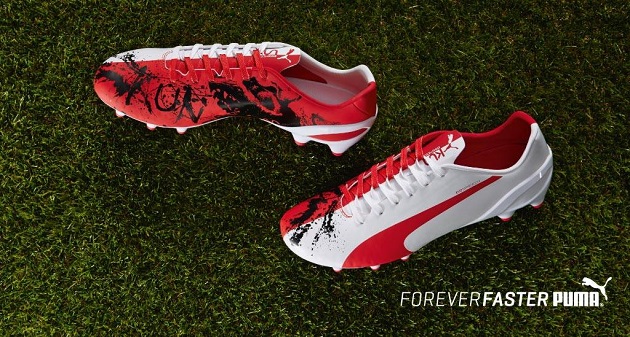 As we enter into the thick of boot releases here in 2015, Puma has definitely turned a huge portion of their attention towards signature releases. A Mario Balotelli evoPOWER last year, a Marco Reus evoSPEED, and Cesc Fabregas wearing a custom evoPOWER will have paved the way for Manchester City's striker extraordinaire and his new custom evoSPEED. Now, at first glance, these boots may not readily scream out about who these have been made for, but the striker has helped shed a bit of light on the release.
While the only thing that is extremely obvious has to be the massive "KUN" emblazoned on the upper, the rest of the boot has connections that lie a little closer to home for the Argentine attacker. As the boot works past the instep, an extremely angry dog has been emblazoned on the upper. While we just assumed it was from Sergio Aguero's tenacity in front of goal, it actually comes from his godfather calling him a rottweiler when he was a kid. We have no clue if that was from any connection to soccer, but it certainly holds special meaning for Aguero (even if it makes zero sense to us).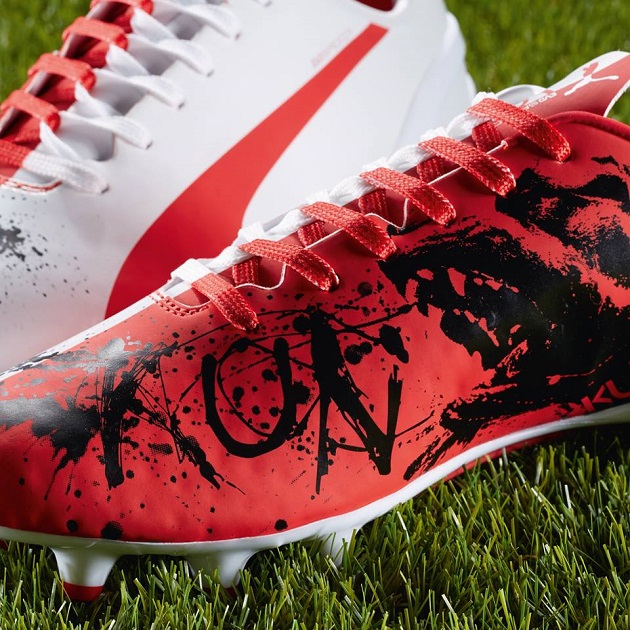 The one thing that definitely struck all of us as odd when these boots released was the color. Considering the fact that Aguero is Argentine and plies his trade for Manchester City, the red half of his boots brought a bit of curiosity to the table. However, it is actually an homage to the club that Aguero got his start with back in Argentina, Club Atlético Independiente. Although that helps us see a bit of a connection, there are still a few aspects of the color choice that feel a bit off. First, red just happens to be the color of City's biggest rivals…and, second, you think Puma would want to avoid releasing a boot that looks almost identical to the Arsenal evoSPEED that they launched as one of the original evoSPEED colors.
Like the other Puma signature releases, these boots have been released in limited quantities and will only be worn by Aguero for one match. I am sure that Puma, City, and Aguero are hoping that it is a memorable appearance for these boots and that the performance (instead of the appearance) is what we all end up talking about. You do have to wonder, will Puma only have their players wear these boots for just one game to spark a change on how consumers feel about them? Surely one of the bigger draws to a signature boot is getting to see your player wear it somewhat frequently…but, I am sure Puma knows what they are doing (they did win BOTY for 2014…).