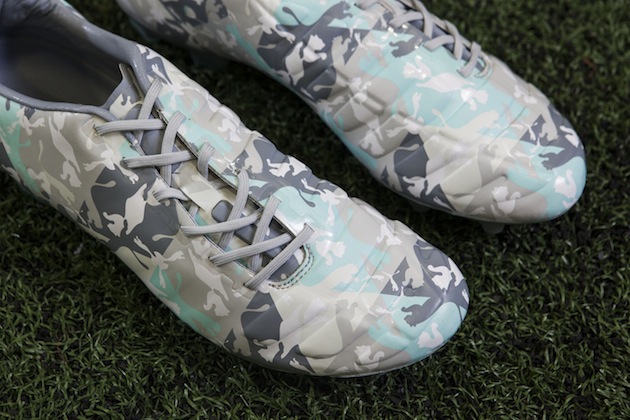 On Friday, we will get our first look at the new Puma evoPOWER. To create buzz for its release, Puma has put out a brief video series entitled "evoPOWER Field Test". The three 15 second videos show men in white Puma jumpsuits testing the distance and power of a ball crashing into the sides of stadiums and buildings, presumably launched from someone wearing Puma evoPOWER cleats. The shaky cam style lends it a "found footage" feel that attempts to add to the mystique of the evoPOWER. Although, launching footballs at remarkably high speeds that close to civilians trying to enjoy a nice, quiet romantic dinner seems somewhat reckless. And apparently "Four hundred and eighty-three!" is an astounding number.
Anyways, it's a semi-clever way to market a new silo that will be worn by the likes of Marco Reus, Cesc Fábregas, and of course, everyone's favorite footballer, Mario Balotelli.
With Sergio Aguero representing the evoSPEED collection, the evoPOWER is undoubtedly meant to provide a counterpoint as the power silo. We didn't know for sure at the time, but it was Balotelli's "newspaper boots" back in mid-December that gave us our first sneak peek, in the form of the evoPOWER Stampa. This was an ingenious decision on Puma's part. It put the disguised evoPOWER on the feet of its new star sponsor in a way that showed off Balotelli's exploits and linked Puma with those exploits ("Why Always Puma?"). Actual newspaper headlines may be mostly a thing of the past, but the point got across that Balotelli would be making the news in Puma boots now.
Next was the release of the Puma evoPOWER Camo. Another way to manufacture anticipation for the official unveiling, the Camo was worn by Balotelli for AC Milan and Fábregas for Barcelona. Despite existing only as a cunning way to promote their brand and disguise the official launch colorway, the Camo actually looks decent. Small Puma brand logos cover the cleat in light and dark grey, with tints of teal, giving the camouflage aesthetic a little extra pop.
With most of the marketing gimmicks past us, we are ready to see the actual launch. Then we can begin to find out if the evoPOWER can be a legitimate success for Puma. How will it stack up against the power/control silos from Nike and adidas? Is Balotelli the right player to represent the evoPOWER? Is Puma going to pay for all the damages they caused to urban infrastructure while testing it? These questions – and more – will be addressed soon.