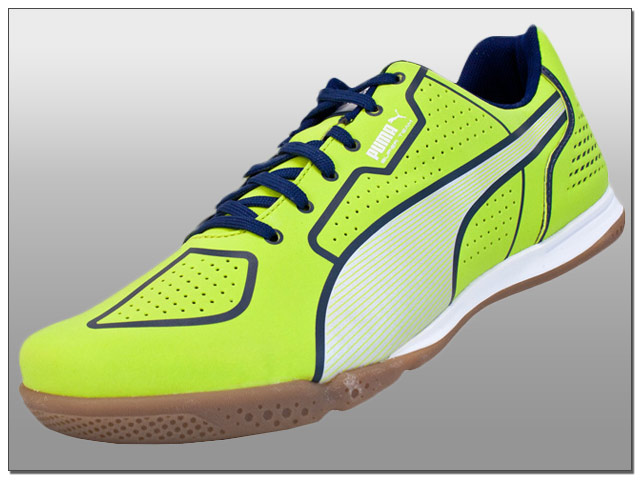 The indoor game is full sided soccer's smaller, quicker little brother.  A fast game means you need fast shoes, and luckily Puma has you covered.  The Puma Superteam Star (say that ten times fast) is a modern interpretation of Puma's iconic heritage handball style.  If it's played on a court, the Superteam Stars got ya covered. Their natural habitat, however, is the futsal arena.  Let's take a closer look at what the Puma Superteam Star indoor soccer shoes have to offer.
First the unboxing, and I must say I've never experienced one quite like this.  When you receive your Superteam Stars, you're greeted not by a boring brown box, but a bright red box-shaped bag. The "clever little bag" as Puma calls it comes with every pair of Stars.  Puma has left a note on the bag claiming "It's smarter than an old fashioned shoebox because it uses 65% less paper.  Even better, it means you don't need an extra carrier bag and you can use it over and over again.  Clever huh?"  While it's not a selling point for the shoes in my opinion, I'll hand it to Puma for trying.  They even included an "eco-table" that shows some of its environment-saving properties like being "PVC free" and "Paw Print Offsetting".  Once you remove the bag, you see that they weren't kidding – there's only half a shoebox here!  When you finally remove your Superteam Stars from the open-topped box, the real fun begins.  The main color of the shoe is lime with blue and silver accents, and no doubt would add some flair to your footwear.  Its styling is classic Puma, featuring the "formstripe" trademark down the sides and of course a leaping Puma logo on the heel.  I've seen many a indoor soccer shoe in my day, but none with as stylish a design.  The Superteam Star is one of the few futsal shoes that I'd honestly wear out casually, granted in another colorway.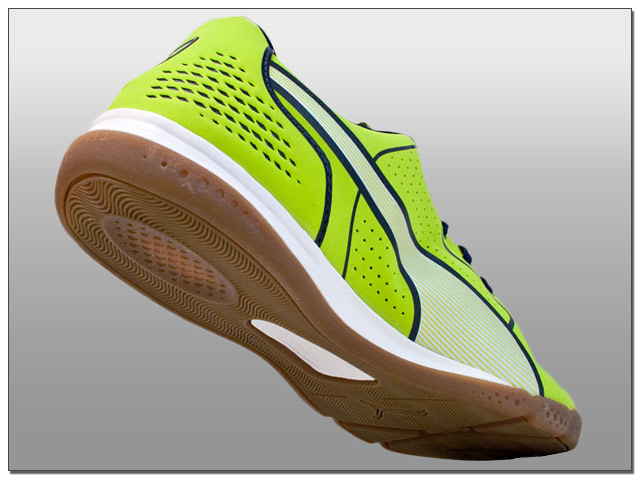 As you slip the Superteam Stars on your feet, the first things you'll notice are the soft inner lining and cushioned foot pad.  The pad is removable and replaceable, so even the most quick-footed hard court player can safely own a pair.  A padded collar offers a snug, comfy fit.  The minimalist upper is constructed with monolayer Micro Tec suede material that guarantees lightweight comfort and good abrasion resistance.  The t-toe design with traditional lacing enclosure features metallic eyelets for a secure fit.  Both the sides and toe box are perforated to add breathability.  Next comes the sole, perhaps the most important part of an indoor soccer shoe.  A lightweight compression-molded EVA midsole connects to a gum-rubber outsole.  The outsole is textured and in my field (err court) test it performed admirably.  If I had been in front of a crowd, they would have told you about my on-a-dime turning, explosive speed, and powerful shot.  So perhaps that's a bit of an exaggeration, but the Superteam Star had me in futsal heaven.  If you're disciple of the hard court game, do yourself a favor and pick up the Puma Superteam Star indoor soccer shoes.