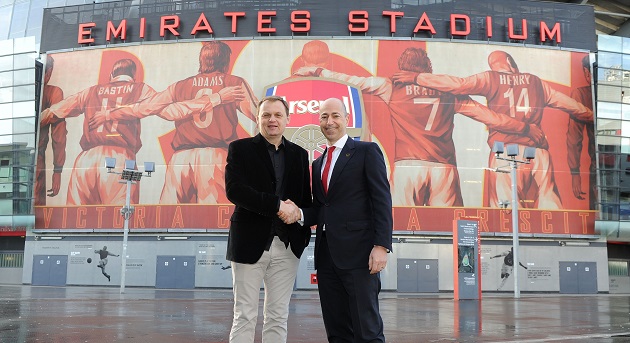 With the biggest kit news from the past few days being Manchester United's new kit and Nike also letting the Red Devils know that they will not be sponsoring them once their current deal expires, Puma are trying to swing the story back around to their massive capture of Arsenal's kit deal. While Puma might be thinking about how much it would cost them to be on a Manchester United kit in the future, the Cat has started to tease the upcoming Arsenal gear.
In the first video, they give us a short video referencing the future for the Gunners and a small glimpse of a Puma boot. While we fully expect a kit that makes every Puma player look like they are built like a tank (as the World Cup Puma kits did), the video suggests (as some slight boot community whispers also suggest) that there might be more than just a kit that Puma release with Arsenal in mind.
The second video that Puma has released hints towards the away kit that we will see from Arsenal this season. From the video, it seems like we will be treated to a yellow kit when the Gunners travel away from the Emirates. Once again, the direction that Puma has taken with recent kits seems to lean towards a classic look (i.e. Italy/Uruguay at the World Cup) but with a fit that leaves very little to the imagination in terms of a person's upper body.
While the world will be looking towards Brazil on July 10th, Puma will hope to steal a bit of the limelight and some focus to Arsenal's kit launch. Puma might not have a sponsored team still in Brazil, but they will have a few Arsenal players still on show and they will be looking to capitalize on the soccer-hungry world market. We are certainly anxious to see if Puma take risks with their first kits for Arsenal or if they play it safe.