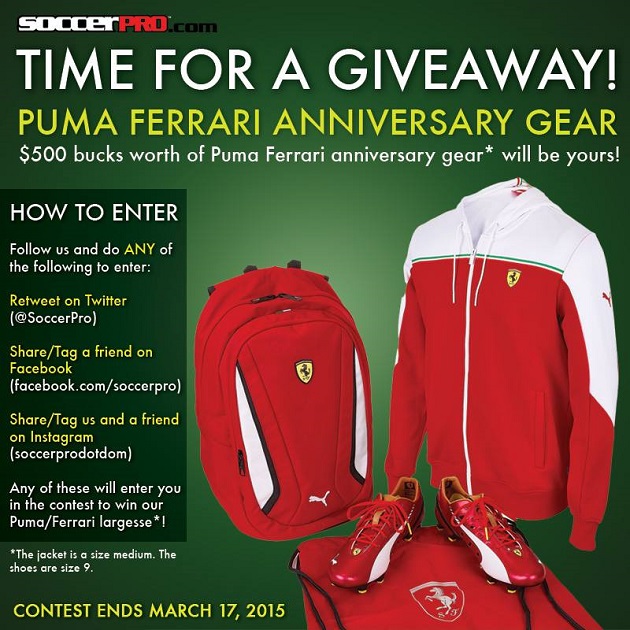 Soccer fans, ASSEMBLEEEEEEE!!!!!!!!!!!!!
That's right. It's giveaway time, people. Did the new Puma evoSPEED F947 cleats' limited edition-ness make them disappear before you could get your paws on them? Do you like Puma? How about Ferrari? Could you use a new jacket or backpack? If the answer was yes to any of those inquiries, then you definitely need to be getting in on SoccerPro's latest giveaway.
To celebrate the 10th anniversary of the partnership between Puma and Ferrari, the German sportswear company and the Italian luxury sports car manufacturer have released a new pair of evoSPEED SLs. These classy lightweight red speed boots are some of the sleekest soccer cleats in recent memory. However, to commemorate Ferrari's first street-legal car in 1947, there are only 947 pairs worldwide.
Well, we've got one pair left of this highly sought-after boot (it's a size 9, so if that isn't your size it will make an excellent collector's item), as well as two of the other items Puma and Ferrari hooked up on. An elegant red and white jacket (size medium) with the Ferrari crest on the left chest and a fantastic red backpack with both the Puma and Ferrari logos on the front.
This is $500 of high quality gear up for grabs and all you have to do is one of the following:
2) Share or tag a friend on Facebook
3) Share or tag us and a friend on Instagram
Pretty much the social network of your choosing. The contest runs until March 17th, so get cracking!