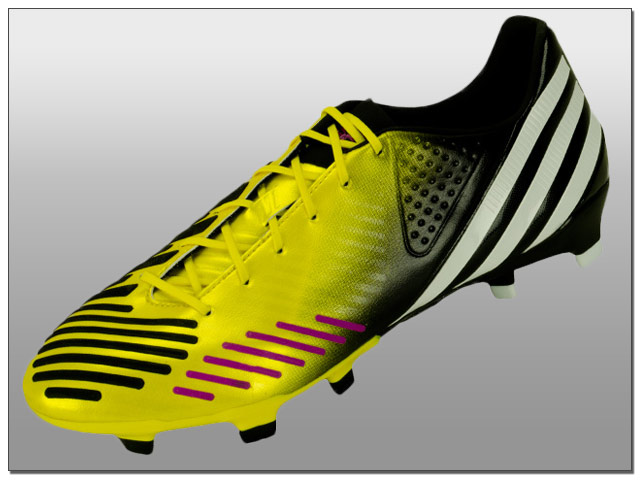 Adidas have just released the latest color of the Predator LZ and it looks stunning. The upper features a bright yellow-gold finish on the forefoot that fades into black as it goes back towards the heel. This gives the shoe an aggressive look, and evokes a sense of motion and glory that's been missing from nay of Adidas' releases of late. I also like the black and purple control elements set against the yellow boot and they look especially good on the pitch against the green grass. Holding a pair of soccer shoes in your hands or seeing them on the self doesn't always do them justice as once they they are sitting on a green grass pitch the colors can really pop.

The upper itself is made form synthetic microfiber and will give a snug but secure fit with decent touch on the ball. The 5 shooting or passing elements on these cleats don't affect the fit in anyway as they move with the underlying synthetic upper, and do offer some help when trying to get a hold of fast moving ball. I found this to be particularly true when shooting on the volley as raised rubber on the elements allowed me to maximize my connection with the ball and make a decent connection. I also like the increased padding behind the upper of these cleats as compared to the old adiPower, which I found to be way to thin, and far less durable than the Predator LZ.
The cleat pattern on these shoes is stuck on an Adidas Sprintframe, and is identical to what you would find on an F50 Adizero. I'm a fan of the SprintFrame, and the triangular shaped cleats as they get the job done, but I wish Adidas wouldn't put it on every single one of their soccer shoes. The triangle shaped studs are cool, and will allow to change direction quickly, and the miCoach pod is nice to have, but for me the Predator is a shoe built for a striker, and should be more about power than lightweight. That said, these are decent pair of soccer shoes and are fairly durable compared to some speed models you'll see, and the price is right.
Overall, these are sharp looking pair of soccer cleats that will best suit an attacking midfielder, but will work for any position on the field. They fit true to size and are ready to wear right out of the box. You won't get much stretch in these shoes as the synthetic upper won't break in very much, but they do fit true to size so you should be able to purchase the correct pair the first time. If not, be sure to check out the ShoeFitr tool on the product page so compare to a pair you already have.