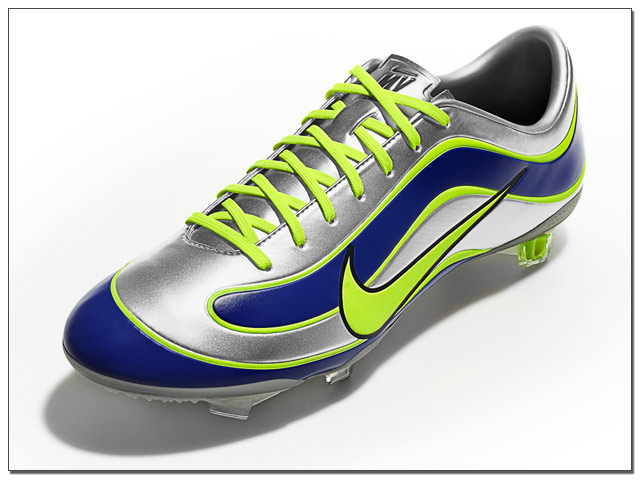 Nike are ringing in the 15th anniversary of their Mercurial line of soccer shoes in style by bringing back a classic colorway from way back in 1998. Originally worn by "El Gordo" himself, fat Ronaldo, during the 1998 World Cup as he played for Brazil. Those shoes were something to talk about, and looked beautiful against the grass on the most important pitches in the world. This updated version maintains the soul of these classic Nike boots and the player who wore them while showing off the latest Nike technology.
While these shoes are based on the Mercurial Vapor IX frame, the upper on these soccer shoes is something different. We've seen the leather and dimpled synthetic finish on these shoes. The upper isn't padded, or in anyway thicker than the synthetic you'd find on a regular Vapor IX, but has a softer polish to it.
When these shoes hit the field of France in 1998 on the feet of "El Phenomeno" they helped him make what was arguably the biggest impact on the modern game on any player since Pele. With his creative style of play, and phenomenal rise from a Brazilian club, Ronaldo paved the way for almost every Brazilian player who has moved to Europe in the last 13 years. Even Neymar owes some of his success to this man, as without him making such an impact, Brazilian soccer wouldn't have the importance it does today.
"Ronaldo's impact on the game 15 years ago was immense, and in the run up to 2014, we wanted to celebrate that boot and the man himself. We thought a modern construction of his 1998 boot would be a great commemoration of that moment." said Phil McCartney, VP Nike Football Footwear.
Overall, they're a superb pair of soccer shoes, they are numbered, with only 1998 produced in the world they are sure to move fast. Even better, we are giving away one pair of these boots, a NikeFuel Band, and pair of CR7 Vapors to the lucky grand winners of our MVXV Giveaway. Just click this link and look for the "Enter to Win" graphic at the top of the page.