Unleash your 6th sense in the new iteration of the COPA from adidas.
The COPA has alway been known for delivering the perfect touch with a soft leather upper. The COPA SENSE takes it a bit further by mapping different foot and sole shapes until they got the perfect one that fits the anatomical structure of the foot. There are a couple really rad features of the new COPA that are worth a closer look, so we will do exactly that.
001- TOUCHPODS
The most outstanding piece of new tech in the COPA SENSE are the TOUCHPODS, which are placed on both the medial and lateral sides of the boot. The pods are put on "hotspots" of the boot where the most contact with a ball occurs. This adds a little more cushioning to help you get that silky touch that you've always wanted.
SOFTSTUDS
There are two "SOFTSTUDS" found on each boot. Two medial forefoot studs are injected with a softer material, so they bend upon impact with the ball for unrivaled control.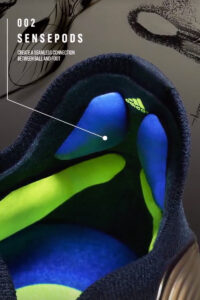 002-SENSEPODS
The second set of "pods" on the new COPA are named SENSEPODS, which are a new innovation designed to minimize the negative space found around the ankle and achilles for a closer lockdown feel. Foam elements are anatomically placed within the inside of the heel, filling this space to create a seamless connection between boot and foot.
003-K- Leather Vamp
Ah yes, you can't have a COPA without the soft K-leather that you have come to love. It is part of FUSIONSKIN, a material that moulds to the shape of the foot. Made from a material which seamlessly fuses leather and PRIMEKNIT, FUSIONSKIN that also minimizes water absorption.
PRIMEKNIT + K-Leather = a match made in heaven.
New and Improved Collar
The collar shape of the COPA SENSE is slightly rotated and opened to the lateral side to follow the shape of the ankle and doesn't restrict movement so you can do all those elasticos you have been perfecting. This has been engineered in a way to provide an anatomical fit, allowing the boot to stretch with the respective foot shape, made possible thanks to a soft elasticated material used in the construction process.
What are your thoughts on the new COPA SENSE? Is it wavy enough for your taste? Let us know in the comments!