How good has this summer of football been? We have seen every team play in the EUROs, worked out who has impressed and who probably did not quite match expectations, while the Copa America has produced some top notch games and some shock results. But let's take a super quick time out with a dash through the big boot spots so far. While there are a lot of players who are going with *ahem* unoriginal boots, there are the odd gems around from players going against the grain with whats on their feet. Check out our wrap up of the big spots so far.
Lionel Messi (Argentina) – adidas Messi 16.1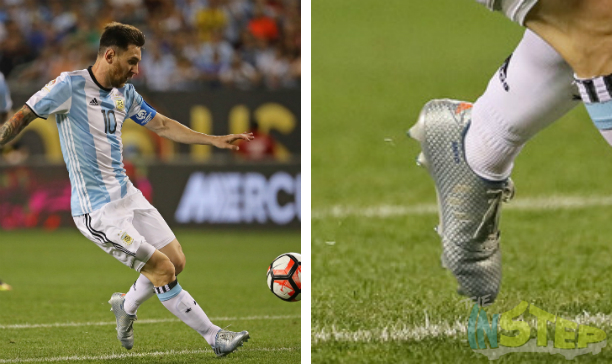 He was never really going to wear the top tier Messi 16+ Pureagility was he? Messi has always been one who prefers his more traditional boots, and it seems the mid length collar on the top tier Messi 16+ Pureagility was a bit too much for the little star. He has been spotted in a non-custom version of the Messi 16.1 during the Copa America, and he did hit that stunning 19 minute hat trick in them last week, so we think he has taken to the boots rather well…
Paul Pogba (France) – adidas ACE 16+ PureControl (Custom)
Man, adidas are loving this bloke these days, and they are probably pretty happy that they went out of their way to pry him out of Nike's hands. They have been pampering him as much as they do Messi too, with Pogba being awarded with his second custom boot since he joined up with the Three Stripes. His new boots are a clever little twist on the regular release 'Mercury Pack' ACE 16+ PureControl, with French flag touches on the ankle tabs and his official Pogboom hashtag on the heel.
Aaron Ramsey (Wales) – New Balance Visaro 2.0
Oooohhh, check out what's coming up from the New Balance stable. Aaron Ramsey has jumped the gun and showed off what looks to be the next generation Visaro (he's shown off a new haircut too). So what is new with the Visaro 2.0? The new upper is definitely the big change, the first generation Visaro had a Hypervenom-like honeycomb upper, but the new Visaro has a smooth leather-like upper. Besides that, not much has changed, but it still looks like a damn good boot.
Kyle Walker and Raheem Sterling (England) – Nike Mercurial Superfly V and Vapor XI (Custom)
Did these two boys (and Marcus Rashford for that matter) get a special deal on their custom boots for the EUROs? All three players have laced up in a superb all red custom Mercurial, with Sterling sticking with the Vapor XI while Walker and Rashford have opted for the Superfly version of the colourway. Regardless, the boot looks fantastic with England's red socks. We wonder if the boys have packed away a blue version to match their away kit socks too…
David Alaba (Austria) – adidas X16+ Purechaos (Custom)
There are a lot of players wearing the normal 'Mercury Pack' boots, which is why it is refreshing that Alaba has gone for something a little different with his X 16+ Purechaos, even if it just saw Alaba grab a permanent marker and write something on the upper of his boots. His boots read 'Meine Kraft liegt in Jesus', which when you translate from German means 'my strength lies in Jesus'. At least we now now the upper is smooth enough to take a permanent marker to…
That is it for our boot spotting today, what was your favourite spot this week? Share your thoughts in the comments section below.