One major trend amongst the fashion industry in 2021 was action planning around sustainability. Moving into 2022 businesses are putting those plans into action surrounding carbon emissions, equity, supply chain, and recycled materials. Companies that have a large impact in the world of soccer such as adidas, PUMA, and Nike are taking large strides to fight against public waste, and create a better environment for our future generations. 
Nike's Innovation

Back in April of 2022 Nike launched the Mercurial Vapor Next Nature with a mission to serve their athletes and the planet. This 'Next Nature' soccer boot is made with 50% recycled content by weight, and features a 100% recycled mid-sole plate. Nike created this boot to tell athletes that you don't have to use virgin materials to create an unstoppable boot. Since the Vapors debut in 1998 the engineers and creators at Nike have been consistently pushing the envelope to support future athletes and the sport of futbol. 
Nike has also been working with stars like Bille Eilish to create their iconic Air Force 1 with recycled content, and more recently they've been working on shoes that can be taken apart to utilize lower impact materials and leverage recycled content. Nike Chief Design Officer John Hoke said, "We have a responsibility to consider the complete design solution: how we source, make, use, return and ultimately reimagine product. The goal is to make 'matter' matter more." Overall, Nike is pushing the envelope on sustainability and making strides toward a circular, zero-carbon and zero-waste future.
PUMA's Efforts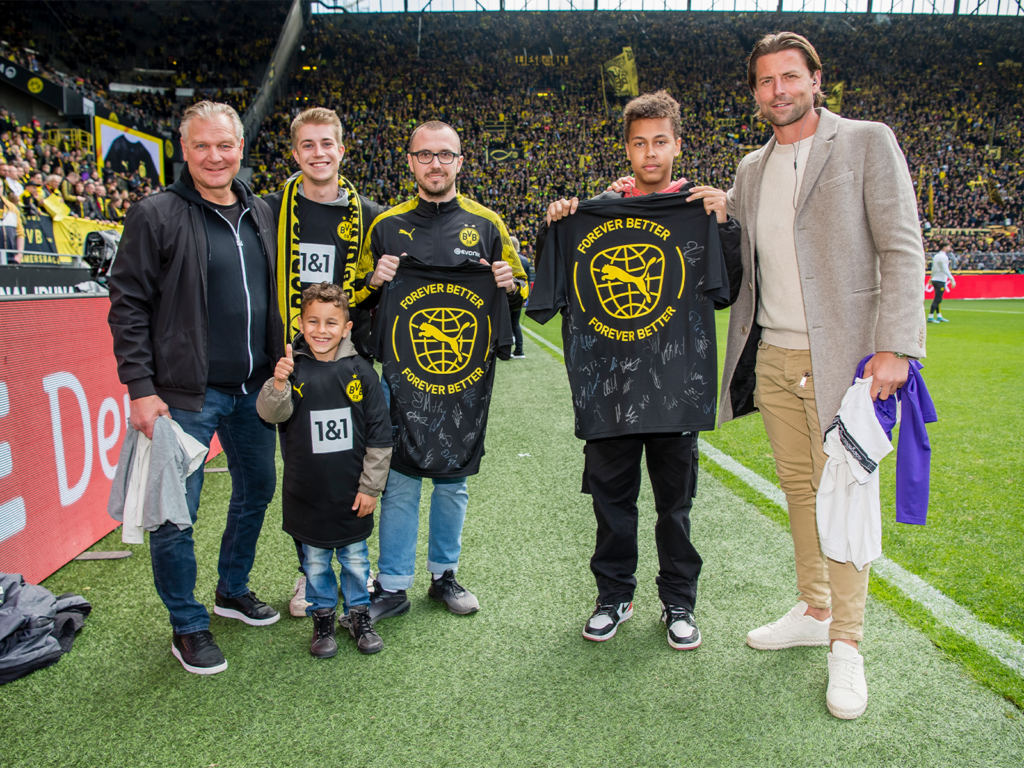 PUMA and Borussia Dortmund recently swapped shirts with fans at a match at Signal Iduna Park to draw attention to their RE:JERSEY Project. PUMA created this project to test a  chemical recycling process, and to pave a way towards more circular production. Within their chemical process old garments are chemically broken down, their colors are filtered out, and then are put back together. This process provides the same performance characteristics as virgin polyester. 
To continue the fight against plastic waste, PUMA also launched the Ultra 1.3 and Future 1.2 futbol boots. These cleats were created entirely from recycled bottles collected from oceans and landfills. They also dropped the new King Platinum "Vegan" where they recreated the classic boot using 100% vegan materials. You can even grab a pair here! This work is part of the German company's ongoing commitment to reduce its environmental impact and live up to its code of being "Forever Better". 
adidas X Parley
adidas has partnered with Parley to co-create a plastic free future. In 2021 the two partnered up to focus on addressing the impact plastic is having on marine ecosystems and coastal communities. The partners kicked off the campaign where adidas Ultramarathon athlete and climate activist, Timothy Olson attempted to break the record for fastest run of the Pacific Crest Trail. This initiative inspired many and adidas X Parley has now introduced  'Run for the Oceans' where 30 countries can take direct action against marine plastic pollution by removing plastic waste from beaches, remote islands, rivers, mangroves and high seas, and intercept plastic waste in coastal communities.
This isn't the only action that adidas has taken for sustainability purposes, they're also creating shoes using recycled bottles from the oceans, and working with 'all birds' to create the brands first shoe with <3KG carbon footprint. 
It's truly powerful to see large brands have a mission for such change. By working together and sharing stories we can motivate and inspire change for future generations and create a better tomorrow.