The Nike Mercurial Vapor first appeared in 1998 and was debuted by Ronaldo. Shown below, the shoe has gone through vast changes since its birth 15 years ago! The original boot included an informational booklet that claimed a 3% decrease in sprint time for a 20 meter race. The boot still holds true to origin by focusing on the importance of speed.
The Vapor II was released in January 2004 and the Vapor III was released in 2006.  The Vapor III featured Teijin microfibres which conformed to the foot and were light yet durable.  The boot weighed in at 196 grams.

The Mercurial Vapor IV was revealed in 2007 and weighed in at 210 g.   Two years later the Vapor V was released featuring a sister shoe, The Mercurial Vapor Superfly which was the first time a shoe was made with Nike Flywire technology.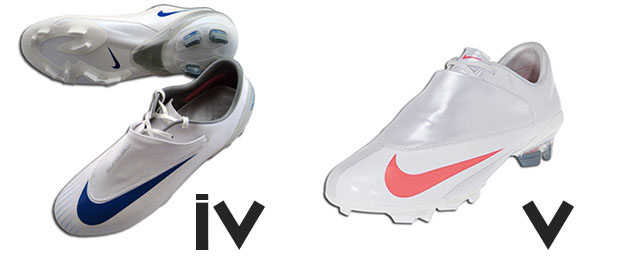 In 2010 the Vapor VI was released still weighing 210 grams. The Vapor VII update was largely cosmetic and the lace shield added with the Vapor IV was dropped.  The shoe debuted in March 2011.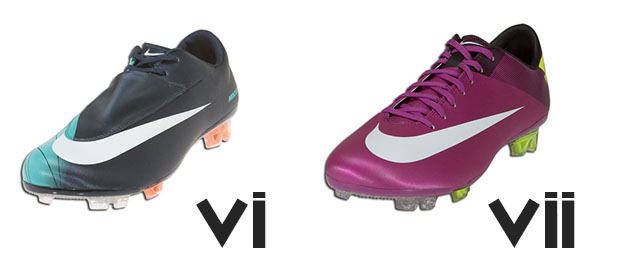 Just over a year ago, on March 19, 2012 the Vapor VIII was released.   It debuted in France and was available to the public by the end of the month.  The shoe dropped some weight, weighing in at only 184 grams. This boot no longer used the sense studs and four studs for the heel counter and was replaced with a fibreglass soleplate that is still seen on the current Vapor IX.   The Vapor IX was released in early 2013 and featured a lightweight dimpled Teijin upper.  The boot added the largely successful ACC technology.