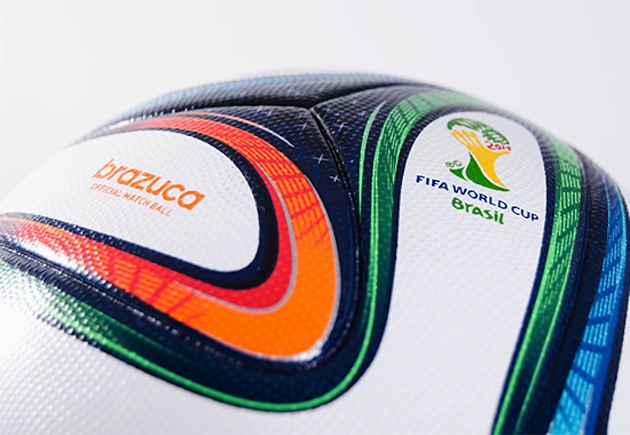 After having its appearance shrouded in mystery for what seemed like an eternity, the FIFA 2014 official World Cup ball has finally been revealed. It's called the adidas Brazuca and the world finally gets to lay their eyes on it.
How did it get the name? Glad you asked. The name of the official World Cup ball was voted on by more than one million Brazilians, with 70% choosing Brazuca. Besides it being a great name for a ball (it brings to mind images of a soccer ball shooting out of a bazooka for me), the word "brazuca" is actually an informal term denoting pride in the Brazilian way of life. It symbolizes a certain kind of emotion and dignity for Brazilians.
This was adidas' most tested ball ever – and they have been making the World Cup ball since 1970. Considering the debacle that was the World Cup 2010's Jabulani,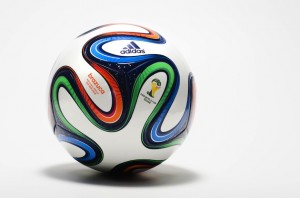 the next World Cup ball cannot be over-tested. You didn't forget about last the last World Cup ball, did you? Over three years later, even just the word "Jabulani" elicits groans and eye rolls from most soccer fans. Well, the Brazuca ball has been engineered and tirelessly tinkered to make sure we don't end up with another unpredictable and inaccurate ball. The Jabulani had 8 thermally bonded panels; the Brazuca has 6. This is supposed to improve touch and control, while giving it a much more predictable flight pattern. The 100% thermoplastic polyurethane material allows for optimal performance in all weather conditions. Of course it is FIFA approved as well, passing all sorts of experiments on water uptake, shape and size retention, and weight.
There are several different versions of the Brazuca: The top notch Official Match Ball, the Winter Match Ball, the Top Replique training ball, and the mini-ball. All of those are available at SoccerPro.
Adidas has released an entertaining video featuring Xavi, Schweinsteiger, Messi, and others. Set to The Kinks' "All Day and All of the Night", it promotes the Brazuca as if it were a living organism.
Believe it or not, you can also actually follow the World Cup ball on Twitter (@Brazuca).
So, what are your thoughts on the World Cup 2014 Brazuca ball?