It's a common complaint among soccer players whose feet are a little on the wide side: Finding a
football boot that checks all the boxes when it comes to comfort, performance, and a good fit is often
easier said than done. However, fit is non-negotiable on the pitch, as a restrictive boot can prevent you
from getting the most out of your ability. Fortunately, the following soccer cleats can accommodate a
larger width, while also offering a number of other amazing benefits.
adidas Predator Precision

With laced and lace-less versions to choose from, the
adidas Predator Precision
deftly combines comfort
with performance. While not quite as wide as some of the other selections mentioned here, the key to
this cleat's appeal is the ample space within the toe box. Thanks to this construction, this shoe is perfect
for people whose foot is wider in the toe area.
Nike Tiempo Legend 9

The
Nike Tiempo Legend 9
certainly lives up to its iconic name. Made using breathable materials and
featuring a special mesh for an optimum fit, players love the snug profile of this boot. Additionally, the
lack of stitches in the upper component means this soccer shoe has a lot more give where wide feet are
concerned.
Nike Premier III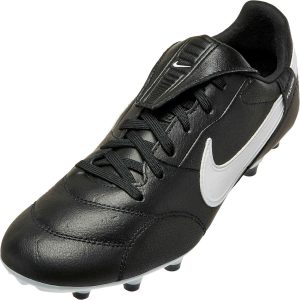 With a reputation for being more reasonably priced than other boots, the Nike Premier III certainly
doesn't skimp on quality. For example, a wider soleplate means that even substantially sized feet will
have the support they need on the field. The cleat also features a leather top portion that has been
designed to conform to the player's foot. These impressive characteristics are offset by the shoe's
resilience, which means it will remain in good condition for years to come.
New Balance Furon

When in the market for a soccer cleat designed with a more substantial foot width, the
New BalanceFuron
makes for an excellent selection. For instance, this brand offers an Extra Wide option for many of
their show models to ensure maximum comfort and mobility. Even their standard football boots are
wider to accommodate a greater variety of players.
Puma Ultra

One of the best things about the
Puma Ultra
is its adaptability. The innovative lacing system allows for
greater customization than with other brands, which means players can enjoy a snug fit that's not too
restrictive. These cleats are also known for being lightweight, which means players can remain agile on
the field while also experiencing optimum comfort.
Nike Phantom GTX

The smart construction of the
Nike Phantom GX
is a big reason why it's so beloved by players in need
of wider footwear. A favorite of the pros, this football boot features an innovative open-arch plate to
allow the shoe to conform to the foot seamlessly, especially when combined with flexible material on
the top of the shoe, aka the upper.
Players with wide feet may have struggled with finding quality boots in the past, but there's no reason
for that to be the case anymore. Many manufacturers recognize the importance of providing more
options when it comes to size, which means a greater selection of quality footwear so that you remain
supported on the field.