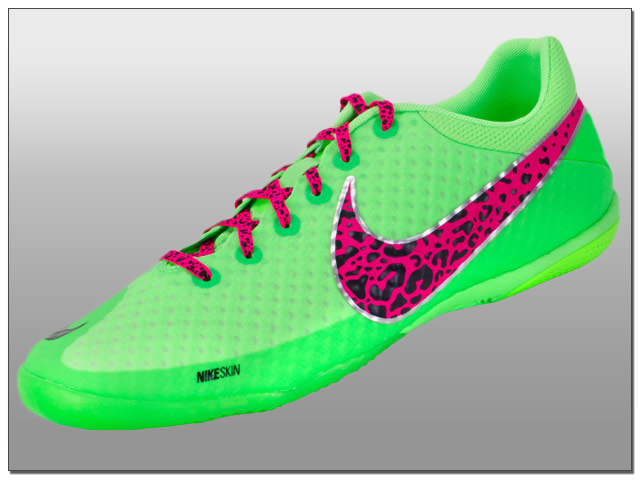 There have been very few boots that have emerged from the box and caused me to feel that the equipment world is about to change. I remember that feeling when Kanga-Lite first emerged and I also remember the same feeling when the lightweight adiZero started to became popular. However, there is no possible way for me to explain the feeling I got after Nike's newest indoor boot, the Elastico Finale II, jumped out of the box.
The upper on the Nike Elastico Finale IIis made of Nike's newest synthetic material, NIKESkin, and it will change the market in the same way that Kanga-Lite and some of the higher-profile lightweight uppers have.  Actually, NIKESkin may end up being one of the biggest innovations in soccer equipment that we have seen in years.  Nike have placed this material on the Bomba Finale II and there are rumors that we will soon see this material making its way onto a firm-ground boot before the end of the summer.
What makes this material so special?
Well, it is extremely lightweight…for starters!  Indoor shoes, even at their lightest, tend to lean closer to the 10 oz margin.  This shoe is closer to the 7 oz side of the scale and you cannot help but notice the lightness of the box as soon as you pick it up.  If built with the materials necessary for a soccer cleat then it is very possible that it would be light enough to directly compete with the lightest of boots that are currently on the market.  The upper also, because of its lightweight nature, provides a magical touch on the ball.  Every flick and movement is felt throughout the upper and it provides that barefoot feel that nearly every company is searching for.
The construction also seems to lend itself to a durability that most lightweight shoes do not have.  With the honeycomb construction of the inner layer of synthetic, every section of the upper lends itself to maintaining durability throughout.  Although a strong stomp or stamp may leave you reeling, wearing a boot of such a thin construction is not a recipe for great protection.  The structure of the NIKESkin also promotes one of the best fits available.  It fits like a sock and it only continues to improve your fit as you continue to wear them.
The future of soccer equipment has been dictated by Nike's synthetics for years.  Although Adidas really dove into the lightweight craze first, the simple fact is that Nike have been setting the bar with Kanga-Lite and their Teijin synthetic with the other brands having to play catch-up.  With NIKESkin, Nike have continued to push the boundaries and they have created a material that will put their quality even farther ahead of the competition.  And, for those of us that want the best possible products available, this can only mean one thing: the future is bright!