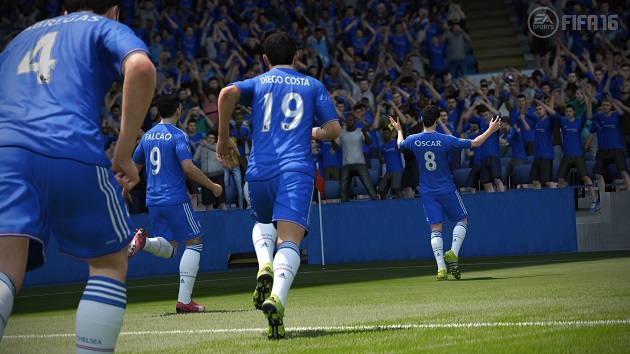 While the most important thing for most fans as they dive headfirst into FIFA16 this week is going to be how the game performs and what the updated/new features look like, there is one aspect of the game that is always noticed by those of us enamored with the gear industry: the boots and kits of the players in the game.
One of the first things that we did was to head straight for the boots available in the game and to unlock them through the EA Football Club Catalog.  With FIFA15, EA was continuously updating the boots that were available and giving us some of the more recently launched boots to place on our virtual counterparts.  FIFA16 seems like it is going to follow a similar pattern, but there was a wealth of boots available for us to use from day one.  It looks like fans of major brands and smaller brands will be very pleased.
Adidas and Nike are certainly the most well represented, with the adidas Eskolaite boots and Nike Tech Craft also making an appearance.  All of the boots are immaculately recreated, with the stud patterns and soleplate builds actually looking amazing.  Our biggest issue was that the collared entries from Nike look a bit off around the collared portion of the boot.  The worst on show is the newest Hypervenom, but it is merely a case of making a player look like they have a bulky ankle…nothing that really takes away from the game.
Mizuno is heavily represented with some great looking options on show (mainly the black/red Ignitus), and Umbro has the UX-2 and Speciali on board.  Hummel, Lotto, and Penalty all with smaller entries, but Under Armour gets to show off their Speedform and Clutchfit.
The biggest surprise comes from Puma.  The only boot available (even after downloading updated options) is the white/lava evoPOWER.  Considering how many boots Puma has available on the market and how massive the big cat is, EA Sports must have some reason for not including the evoSPEED and King (at least, up to this point).  It will be very interesting to see if the situation changes with Puma, but it was definitely odd for a first impression.
In terms of kits, there are a wealth of teams that will give you a great look when diving in to your Career mode or Pro Club.  Be prepared for a gorgeous look on the high end Nike third kits, but also be aware that most of Serie B and a few other leagues are stocked full of mundane stock kits.  Sadly, for those of us that always enjoy finding the tackiest of kits available, there aren't many kits worthy of ridiculous giggling.  Last year's condiment explosion kit from Russian club Arsenal Tula doesn't make the transition, and there aren't any crazy kits to fill the void.
As with every successive year for FIFA, the game continues to look better.  Stadiums, fans, and the gear…all with definite upgrades that make for a very appealing experience.  Gear heads should continue rejoicing…FIFA16 will please the biggest boot nerd among us.  Get ready for a fair amount of time trying on different boots as you get your players ready…some of us consider this a big-time bonus.