With the half way point in the calendar year upon us, I thought it was time to look back over the past 6 months to see which colorways have caught my eye so far. Instead of just focusing on one boot, I have looked at all of the releases this year to date and selected my personal favorites.
Let's get into my top ten.
10. Umbro Velocita – launch colorway
Umbro launched into 2015 with a boot that's quality surprised many. Umbro has been steadily on the rise and could be pushing back into a top spot with the progress being made in their football boots. The launch color featured a white base with pink accents made this a subtle start to Umbro's leap into the speed boot race. It may be subtle but it works. Nice job, Umbro.
9. Nike Mercurial CR7 Silverware
For many people this is way too low on the list, but for me it's a great colorway just almost too flashy. The Silverware boot gets points for being as flashy as a boot can get. CR7 always seems to get Nike's most unique colorways and this one is not my top CR7 boot on this list. In my opinion, the best is yet to come.
8. Puma evoSPEED 1.3 F947 Ferrari
As previously mentioned in my evoSPEED colorway rankings, Puma went all in for speed with this special edition release of the evoSPEED 1.3. Puma made a show that was designed to look like and feel like you had a Ferrari laced up on your feet. The red design features vents that expose the inside of the boot and give off a sense of pure speed. The F947 name is a nod to the first street legal Ferrari released in 1947. A nice collaboration from Puma and Ferrari.
7. Under Armour Speedform – Black
If we were talking about teams in a ranking, this would be my sleeper pick. Under Armour introduced the Speedform into the soccer world this year with Memphis Depay headlining. The main colorway featured a blue/green upper with a yellow sole plate. The black upper looks sleek and the chrome outsole truly gives this colorway the edge over the launch version.
6. Nike Academy Pack – Superfly and Obra
A 2 for 1 deal at number six with Nike's true blackout pack. The Matte black Superfly looks almost like a test pair of boots that you get to wear whenever you so please. The blacked out boots were inspired by the fact that many academy players are forced to wear blacked out boots in order for their talent to stand out, not their boots. I am a huge fan of black boots and think the stealth aspect of this pack is one of the best packs from Nike.
5. adidas Gloro – White
I'm sure this one will come as a surprise to most but I love the Gloro and specifically the white colorway. The classic style Gloro famously brought back the tongue on the K-Leather boot. The white base mixed with the black adidas stripes as well the black tongue. If you are a fan of modern technology intertwined with classic design, then this boot, and more specifically this colorway, are for you.
4 .adidas F50 Tattoo Pack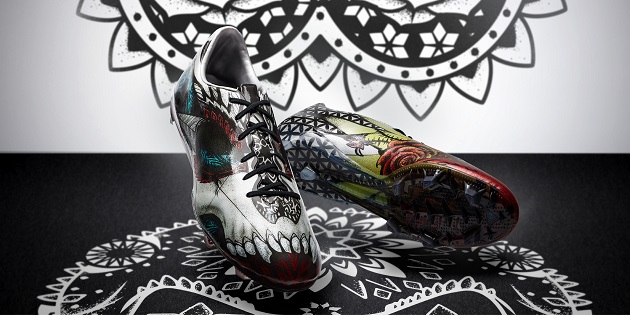 Worn by Luis Suarez, the Tattoo Pack F50 was one of the few bright spots in terms of colorways for the short lived 2015 F50 adizero. The Love and Hate design was similar to a Tricks pair from Puma with one boot being all about love and positive and the other boot showing hate. I like these because they really embody Luis Suarez. One minute he is scoring a wonder strike and winning the hearts of fans everywhere, then turning around and biting someone. I think we all are like the boots with Suarez. It's all a big love/hate relationship with the Uruguayan.
3. Nike Magista Obra – Silver Storm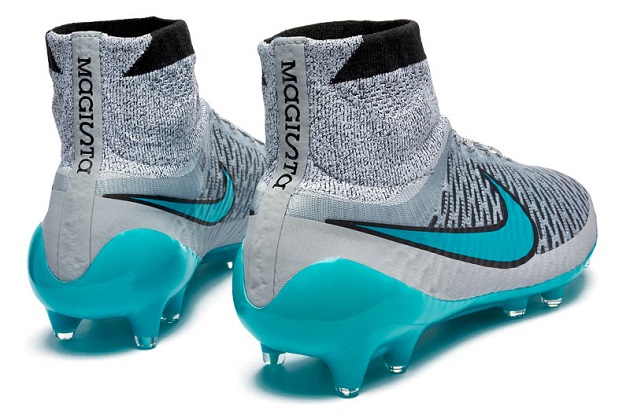 Personally, this is my favorite mass-produced colorway of 2015 so far. The new Wolf Grey and Turquoise color combo is one of the cleanest looking boots on the market today and in recent times. The grey upper along with the black cut outs look incredible and the turquoise base and Nike swoosh add just enough pop to keep the boot subtle but also allow for a little bit of flash. When Paul Pogba brought these out, I wanted to grab a pair as soon as I could.
2. Nike Mercurial Superfly CR7 – Rare Gold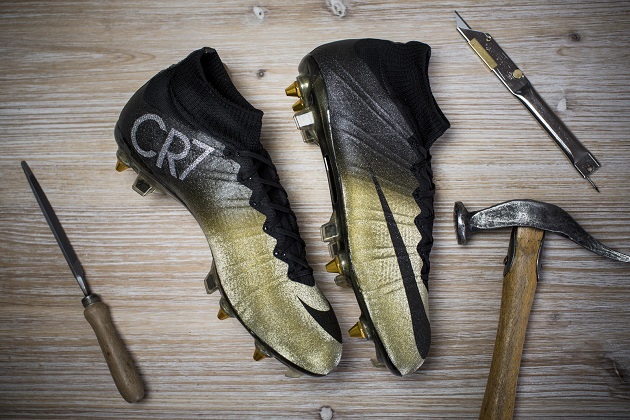 It took me some time to decide whether this should be my top boot or in second place. Although these boots come in second on my list, they were made to honor Cristiano Ronaldo winning his Ballon d'Or this past year. Only 333 pairs were made to the public and unlike the ones CR7 himself wore, the publicly released ones do not feature diamonds, sorry guys. The boots were only made available in SG-Pro stud variation because that is what most professionals wear on the pitch. The black and gold base makes the already stunning Superfly even more special and quickly became a lot of fans' favorite boots. Nike know how to treat their star player right with this special release.
1. Nike Mercurial Superfly – Black History Month
My number one colorway of any boot released this year is none other then the BHM Superfly. Worn exclusively by Kevin Prince Boateng in professional matches and only made available to the public in limited quantities, close to a few hundred pairs in total. The design is unique and really brings a flair to the pitch that also supports a good cause. Part of the proceeds from these boots went to help underprivileged kids realize their dreams and to grow as people through the power of sport. Boateng was chosen as the headliner because of how he took a stand against racism and showed strength in the face of adversity.
What do you think of my list? Tell me what your favorite color way is so far this year in the comments below.