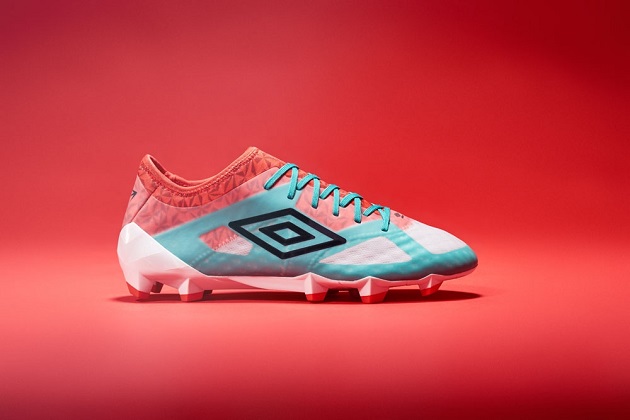 The Double Diamond is making sure that 2016 is coming up ALL Umbro. A brand that has shown a fierce desire to return to the lofty heights that Umbro once held, Umbro is making big moves in 2016. If the brand hadn't done enough to erase the quagmire we'd seen before the 2012 acquisition by Iconix Sport Brand, all doubt should be erased with the newest toy from the British-based, American-owned brand: the Umbro Velocita 3. While other brands seem more than happy to exist in the slipstream behind Nike, adidas, and Puma, Umbro doesn't seem content to follow in anyone's wake.
If you don't make a move now, you better be prepared to get labeled "bandwagon" soon…this train is picking up serious speed. Luckily, this train just got wrapped in Dawn Blue, Carbon, Fiery Red and Spectra Green…you can see it from space!
The Velocita has been an impressive boot since taking over for the maligned GT Pro series, and boot fans have been quick to notice. The newest model looks to take those positive steps into the 21st century with Umbro's own take on the collared boot, and we're excited to get these in hand. A tri-layer constructed upper utilizes Neoprene mesh in the back of the boot and "airmesh" in the forefoot to ensure that this boot responds to your every whim while still keeping you locked in and swimming in comfort. You know that there's the ever-present Umbro A-Frame for support and stability, and also in place to make sure that your foot doesn't roll over as you leave your opponents in the dust.
While the upper is covered up with new tech and changes, the dependable Velocita soleplate makes a reappearance. It's always interesting when a brand sticks by something in such a steadfast manner despite totally updating every other part of the boot. We don't mind, as we have always enjoyed the Velocita set-up, but you have to wonder how long before we see the bottom half of the boot getting the same updates that the upper receives. Surely they can't go for four…can they?
As if the boot wasn't enough, Umbro gave the Velocita a fantastic welcome into the world with their "Don't Get Caught," launch party. Peep it here! What are your thoughts on Umbro's newest boot? We think it has serious potential, and we can't wait to get them in our hands.