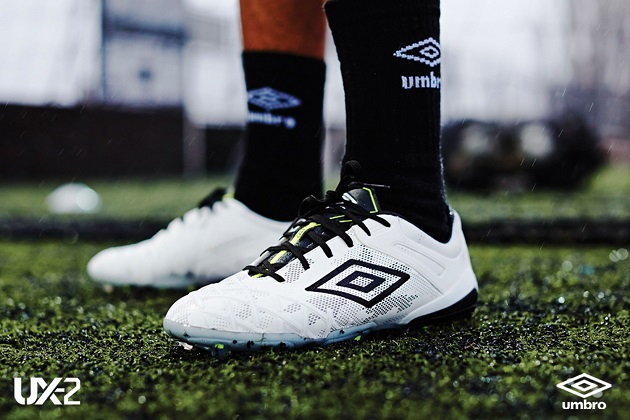 Umbro have been releasing a flurry of brand new boots in 2015 and today was no different. The UX-2 has been unveiled as the next generation in the popular UX silo. The original UX-1 was the epitome of durability and protection as well as control. Umbro never labeled the first generation as a control silo but it seems that they have focused more on control in the UX-2.
Featuring a one-piece upper made of a breathable mesh material, Umbro have gone with a more seamless design in the new UX-2. The upper is extremely durable but is surprisingly soft. Redesigned 3D touch zones help aid in controlling the ball, while the embossed pass pads assist in passing.
The tongue features the same poron inserts found on the UX-1, which add more comfort to the already comfortable cleat. The UX-2 is a wider fitting boot so it's perfect for any players who have problems fitting into other top end boots.
The soleplate remains the same as conical studs make up the majority of the forefoot with thicker bladed studs in the heel. A redesigned A-frame that Umbro claim will provide a secure fit and aid in more stability.
The launch colorway features a predominantly white upper with black accents and even has a graphic that looks similar to the ghost graphic that was found on the 2015 F50 adiZero. Nonetheless, the launch colorway is yet another classy look from the double diamond. The UX-2 is hoping to overtake the popularity of the original UX-1.
The protection that the durable upper provides will no doubt be a favorite among hard tackling midfielders and defenders. Watch out for NYCFC and USMNT star Mix Diskerud to rock this on the field in the near future.
There is no denying that the big three brands have been releasing lots of new boots, but that doesn't mean you should pass on Umbro. We cannot wait to get our hands on the UX-2 to see what Umbro have brought to the table this time. Be on the lookout for more UX-2 content in the future.