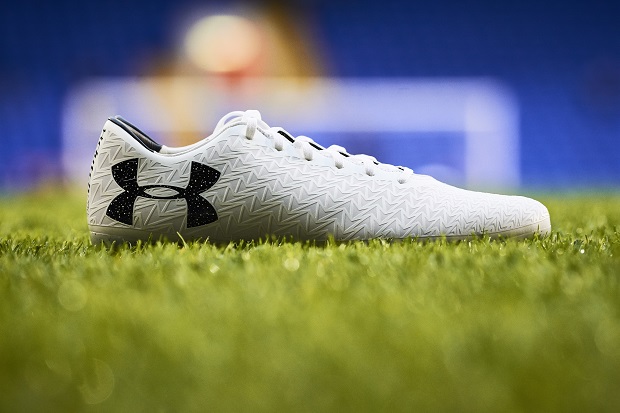 Under Armour has started off February with a bang. UA have released the brand new ClutchFit Force 3.0 as well as a new colorway for the their speed boot silo, the Spotlight. Under Armour has been steadily improving their soccer cleat ranges and over the past few years, we have seen them sign some top players to wear their silos on field with the likes of Jermaine Jones and Granit Xhaka sporting the Clutchfit and Memphis Depay headlining the Spotlight.
The ClutchFit Force 3.0 is created for the creative playmaker. The Performance Trivela microfiber upper is much softer than the previous ClutchFit Force. The newly redesigned Auxetic Pattern on the upper helps give a better fit and feel while wearing the boots. UA have also improved the fit in the midfoot and forefoot to truly lock you in while wearing the ClutchFit Force. A new grip element called UA Grippy has been implemented in the heel to help prevent any slipping during play. On the inside we find Charged Cushioning that helps lessen the impact made on your feet during your time in the boots, not to mention it's pretty comfortable.
The soleplate has been redesigned to make it easier for players to change directions quickly and to help with acceleration and deceleration. So the ClutchFit Force has been almost completely redesigned and I think the latest improvements have pushed the ClutchFit line in a positive direction.
With the launch of the new ClutchFit, we finally get to see a colorway on the updated silo instead of just the blackout version that UA teased before the official launch today. The launch colorway is made up from a white base with black UA branding that feature white paint speckles inside of the logo. The top of the soleplate/midfoot area is a silver colorway with black speckles that go down to the soleplate. The soleplate has a clear toebox with black speckles and cuts off into an all black design with clear conical studs.
The Spotlight received a colorway update on the same day that the ClutchFit launched. The new Black/White colorway takes a simpler designed that works on nearly any boot. The upper is mainly Black with all the UA branding standing out in white. In the heel area that wraps around to the other side of the shoe, a shiny, silver colorway is added to give sort of an in-between color. The soleplate is all black and features all white studs. If you want to check out all the tech specs and performance details of the Spotlight, be sure to check out our review.