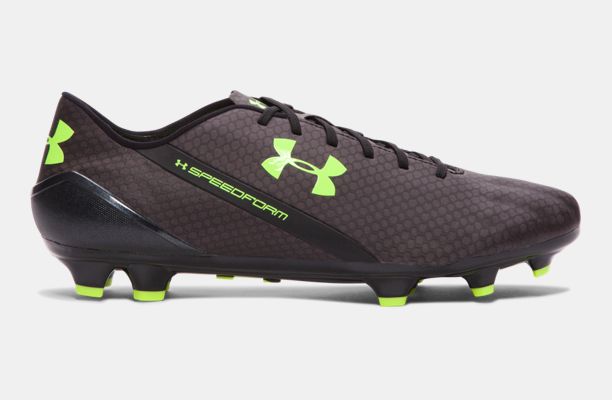 With the arrival of 2016, Under Armour has wasted no time giving their toys a new paint job to compete with the craziness that will, inevitably, appear this year.  While we fully expect most companies to be heading in the direction of extremely loud and divisive colorways, Under Armour has chosen to, instead, go with a very refined set-up for the SpeedForm and the ClutchFit 2.0.  While not a total blackout, UA has given us as close as you can get while still adding a touch of color and splash to the boots.
For the SpeedForm, the boot looks like it is covered in black chain-mail.  Every UA symbol and SpeedForm logo is crafted in a Hi-Vis yellow that absolutely leaps off the boot, and every stud has also been given a hi-vis tip.  An absolutely stunning get-up that has me needing a dozen or so…but I'll definitely settle for one.  Having worn both the synthetic and leather versions, the SpeedForm is a very impressive boot.  With a built-in liner unlike anything else on the market and an upper that provides a great touch and fit, the SpeedForm is a perfect option for anyone hunting a new lightweight option.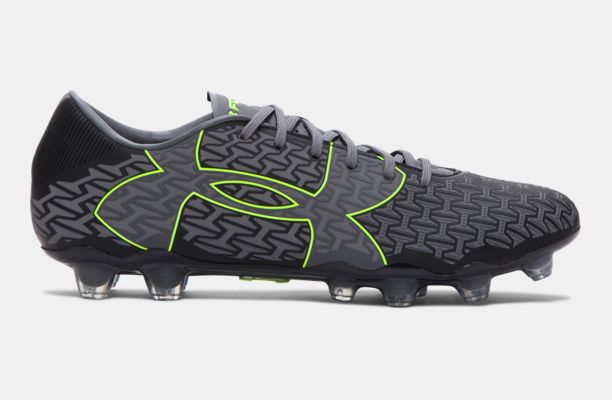 Over on the new ClutchFit 2.0, the boot has been crafted with a black/graphite/hi-vis look that is to die for.  The base of the boot is a very dark grey color (graphite) with the hourglass symbols that cover the ClutchFit making up the black.  The hi-vis yellow is used more sparingly on this boot than the SpeedForm, with only the outline of the UA logo and the tongue getting some splashes of the neon color.  
Where the SpeedForm looks sleek, the ClutchFit stands in stark contrast as the grey/black certainly gives the boot some bulk and makes it look like it would survive a nuclear strike.  Where the original ClutchFit was a quality release, the 2.0 has only continued UA's move towards creating boots that can challenge some of the frontrunners in terms of quality and comfort.
Where Under Armour spent 2015 crafting boots that have won over anyone that has worn them, 2016 is time for UA to further cement their place within the boot world of today.  With colorways like this, we have no doubt that their success is more a matter of "when" instead of being a matter of "if."  Seriously though UA…I'll take a dozen…