Every season, we have a few boot switches that raise an eyebrow or two. But then you get the BIG switches that cause waves through the boot world. Remember when Cesc Fabregas made his big money move to Puma, which suddenly made everyone stand up and take notice of what Puma was doing? Or when Thierry Henry gave Nike the flick for Reebok in the high of his career? With Robin Van Persie rocking black out versions of his customised F50 adiZeros over the past two weeks, there is a very real possibility that we could be looking at a big profile boot brand switch from the Dutchman.
Van Persie has been a loyal supporter of adidas ever since his Feyenoord days, but his move to Arsenal saw the man starting off in the adiPure II (one of my favorite boots of all time). He then had a long stint in the Predator range, including the period of stubbornness from Van Persie where he plundered 26 goals for United in the slime Predator adiPower. Since then, adidas have been able to keep the striker up with the times by putting him in an F50 adiZero, albeit one that sports a customised soleplate from the Predator Absolion. With blackouts almost always indicating a changing of boot brand allegiances, who could Van Persie be making the changeover to? We took a look at the situation and, if we were betting people, we nutted out who we would be putting our money on…
Adidas – 10% chance
We may as well start with the one we do not think will happen. Very rarely does a player wear blackout boots and then decide to stay with that brand after all, it almost always ends in the player ending up with another brand. However, we would not rule it out completely, adidas are going to be the kit manufacturers for Manchester United next season and they would want to see a few players matching their boots with their kit. In saying that, Van Persie has probably frustrated adidas with his refusal to wear the latest colourways that they may be glad to see the end of him. Overall, we would say it is pretty unlikely.
Warrior Sports – 10% chance
Warrior have been known to throw a shock when it comes to the players they have been able to pull. Who would have thought the likes of Samir Nasri, Vincent Kompany and Tim Cahill would wear Warrior boots when they first burst onto the scene 2 years ago? The brand has been quiet as of late however, and signing Robin Van Persie after they would have forked out a bit of money to get Nasri is probably a step too far for the American brand. We admire Warrior for being the little guy who keeps on pushing, but we would be surprised if they pull a rabbit out of the hat this time around.
Nike – 20% chance
So if Van Persie and adidas is not going to happen, that means Van Persie is almost certain to join their main rival right? History perhaps says it may happen (think about the likes of Messi and Nani who have worn boots from both brands), but we just cannot see it happening this time around. Van Persie is starting to hit the twilight of his career, and even though there is no denying that Van Persie still has a 'star power' feel about him, Nike already have a strong contingency of players in Nike boots in the United and Netherlands squads. It does not look like happening to us, because we think it all falls out for one brand to snatch the Dutchman's signature.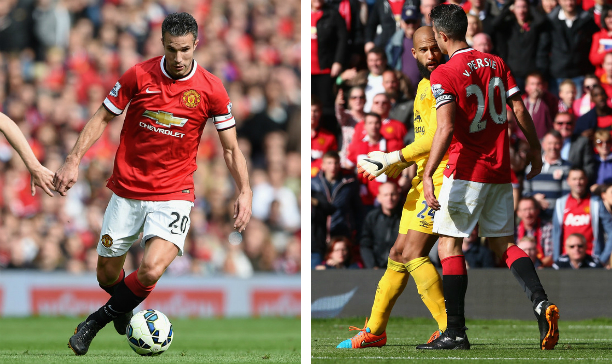 Puma – 60% chance
Yup, we think Puma are going to pull off that big signing once again that turns heads, and we think it all adds up for Van Persie rocking Puma boots. He fits the bill of the sort of player that Puma have been seeking as of late; the devastating player who can change the game with a single piece of magic (i.e. Aguero and Balotelli). Puma will be looking for the next boost to their ranks when it comes from a product launch perspective as well. Puma traditionally like to sign on big name stars prior to the launch of new boots to make sure they are thrown back into the boot spotlight. Balotelli was signed on just a few weeks before the official unveiling of the evoPOWER (which he celebrated with the memorable 'Stampa' evoPOWER), while Cesc Fabregas brought the world's attention to the PowerCat 1.10 when he wore mysterious blackout versions of the boot just before he was announced as not only a Puma athlete, but also the headline player for the boot.
Signing on Van Persie is also consistent with how Puma have been going about their business as of late, with fellow United star De Gea snapped up in the evoSPEED 1.3 in his monster performance against Everton, we can almost see Puma doing an official announcement showcasing the two United players as Puma endorsees. Throw in whispers that Michael Carrick has made the move away from Puma, Puma would almost certainly be looking for new United players to wear their boots. It all falls into place for Puma to swoop in for his signature…
Of course, we will not know more until Van Persie is officially spotted in another pair of boots, but our gut says it will be Van Persie rocking a pair of Puma boots soon. Where do you think he will end up? Share your thoughts in the comments section below.