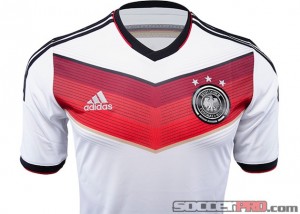 Germany's four stars represent their World Cup victories in 1954, 1974, 1990, and 2014. The German national jersey is a work of beautiful simplicity. This white jersey features horizontal black stripes, the colors of Germany on the sleeve cuff, and the Deutscher Fussball (German football association) emblem on the chest. Above the emblem there are the four stars.
With new kits coming out almost every year, jersey design is an important part of the soccer apparel industry. When it comes to national clubs, each squad is looking for a design that represents their home country, sticks out from the pack, and offers an aesthetically pleasing look that will make fans want to buy them. The officially licensed jersey for the German national team is one of the most popular around the globe. Learn more about it from The Instep below.
Win a Cup, Get a Star
Put simply, you win a cup, you get a star. Germany is not the only country to do this. For example, France has two stars on their jersey–one for their victory in 1998, and another for their victory in 2018. Some countries also add a star for other important victories. Before the World Cup rose to prominence, the Olympics were the biggest competition in football. Uruguay has four stars, representing two Olympic victories in the 1924 and 1928, and two World Cup titles (1930, 1950). Some teams also add a star for each victory in a continental championship. This is particularly common in the Confederation of African Football. Egypt leads the pack with a whopping seven stars on their jersey.
Not Without Controversy
Like many things in international football, the German stars do not come without controversy. The 1954 World Cup Final was between Hungary's famed "Golden Team" and the upstart West Germans. In the heat of the Cold War, and with the conflicts of World War II still not far behind, this match had an extra level of intrigue before it even started. Hungarian forward Ferenc Puskás, one of the all-time greats, played through a foot injury he had sustained in an earlier meeting with the Germans. Two questionable calls–a penalty non-call on Germany's second goal, and a highly-controversial offsides call on Hungary's equalizer–are considered to have cost Hungary the match.
A String of Recent Success
Of course, all of that is in the past now. Since reunification, Germany has been a perennial
powerhouse, finishing 2nd in the 2002 World Cup, coming in 3rd in 2006 and 2010, and winning it all in 2014. Given the team's track record of excellence over the last two decades and the fairly large percentage of Americans with German heritage, it's no wonder the Deutschland jersey – including the German national team home jersey by adidas® — is one of the best-selling designs among officially licensed soccer jerseys.