When it comes to buying your next pair of soccer cleats, performance is crucial and looks are a nice bonus. But with all the long, demanding hours you'll be putting in on the pitch over the course of a full season, comfort should be an equal priority. 
Figuring out the right fit is key. Soccer shoes should be snug but not restrictive. For instance, you should be able to move your toes around the toe box easily. Good boots also shouldn't cause you any pain or discomfort, even if it's your first time wearing them. 
Some football boots are naturally more comfortable than others, there's just no getting around it. Fortunately, the biggest names in soccer are designing footwear to be more comfortable than ever. Here are a few top selections to make sure your cleats don't provide any distractions when you're in full flow.
Nike Premier III
When it comes to quality, it's hard to top Nike soccer shoes. This is especially true of the Nike Premier III, with the 2023 release deriving style inspiration from soccer cleats of yore. The key to the Premier's comfort is the soft leather used to construct the shoe. While the leather upper is very durable, meaning you'll get lots of wear out of these cleats, it also nicely conforms to the foot to ensure proper support while you play. 
Keep in mind that these cleats will need to be broken in before the wearer can experience the full level of comfort. 
adidas Copa Mundial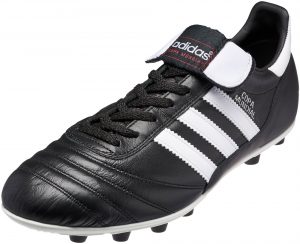 adidas Copa Mundial is one of many excellent adidas soccer cleats that hit all the right notes when it comes to comfort and performance. You simply can't beat kangaroo leather in terms of quality, which is tough yet pliable. Then there's the synthetic lining, which capably supports your feet as you're pouncing and sprinting around the soccer field. Other great features include molded studs (great for artificial and natural surfaces), enhanced shape, and durable heels. 
Even better, these boots offer excellent comfort right out of the box. 
PUMA Future Ultimate
If you're a fan of PUMA football boots, the PUMA Future Ultimate  has so much to offer in terms of comfort. This has much to do with the innovative netting, which provides athletes with lots of lacing options for a snug yet comfortable fit. The cleat also boasts an exceedingly soft upper, which makes it feel more like a sock when worn. Additionally, both the collar and tongue are made from a flexible material. 
Allow a little time for break-in on your first wear and you're good to go. 
Hopefully, this guide can start you off in the right direction toward purchasing the optimal pair of soccer cleats for your feet and your game. Prioritizing comfort will help ensure you're completely happy with your ultimate selection, both now and in the long term.