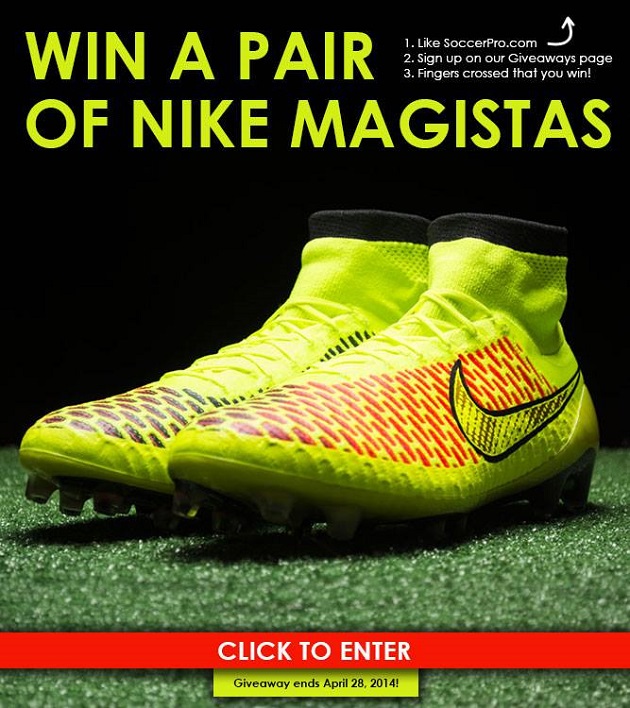 The soon-to-be-hottest football boot around is up for grabs in our Facebook contest. It doesn't go on pre-order until April 28th, but you can enter to win a free pair of Nike Magista Obras from SoccerPro. This isn't the kind of thing soccer fans miss out on.
If you haven't read or heard too much about the Nike Magista yet, have you been on an Antarctica expedition or something? Fortunately, we have stayed up-to-date for you. When rumors emerged about Nike Flyknit on soccer cleats, we were there to analyze how that could work. When images of the Magista were released by Nike, we took an early look at its revolutionary aesthetic and tech specs. Since then, we have written about the Magista's possible FIFA flaw, the future of its Dynamic Fit Collar, and even how to handle any "stench issues" that may arise. Basically, we've got you covered on the Magista front.
And now, you can win a free pair in your size. It's pretty simple to enter: Just "like" SoccerPro.com on Facebook, sign up on the Giveaways page, and start hoping you're the lucky winner. The giveaway ends on April 28th, so get on it. Also, don't forget to sign up for Magista pre-order information from SoccerPro to get alerted when it becomes available.
This is the next great thing in soccer footwear. A release from Nike we will remember for years. So, why not enter to become one of the first to slip these beauties on your feet?