Cracking goals, players writing themselves into the history books, the most outstanding results, this is what I call a World Cup and a half! With all the teams playing their first games, the Instep takes a look back at the boot spots that caught our eye on the pitch, and there has certainly been some very interesting boot spots. From custom boots to boot switches, the Instep is your only source for the best boot spots the football world has to offer. Check out what caught our eye below!
Cristiano Ronaldo (Portugal) – Nike Mercurial Vapor Superfly IV (Custom)
Can I still call it a Superfly? Just a quick look at Ronaldo's boots and it is pretty clear that Ronaldo is not wearing the general release Nike Mercurial Superfly IV, despite being the poster boy for the boot. Ronaldo's boots are sporting a lower cut version of the Dynamic Fit collar, but the boot seems to be pretty consistent with the general release model besides that added customization. Ronaldo rather interestingly wore the Vapor X whilst training for Portugal in the week leading in to their first game against Germany, so perhaps there is something about the Flyknit collar that Ronaldo cannot quite get his head around.
Neymar (Brazil) – Nike Hypervenom Phantom (Custom)
Soooooo Neymar is in Hypervenoms? Was that not expected? Well yes it is, being the headliner for the range and all. But it's what is not there that we are more interested in. Neymar raised a few eyebrows during the week when he was seen rocking a Hypervenom that was customised with a Mercurial Vapor V soleplate. It is the first time we have seen Neymar demand a custom soleplate on his Hypervenoms, and the Brazilian shifted back to another customised Hypervenom for Brazil's first game against Mexico, with his boots having transparent studs that are different to those on the normal release.
Robin Van Persie (The Netherlands) – adidas F50 adiZero TRX (Custom)
So Robin has been enjoying his time in Brazil, eh? After scoring what could go down as one of the most iconic World Cup goals in history against Spain (and bossing it around in general on the pitch), adidas probably realized the rather awkward PR clanger that followed: he did it all in the now outdated Earth Pack F50 adiZero. It seems adidas have now managed to get Van Persie a pair of the Battle Pack F50, which like his previous F50s are heavily customised with a Predator Absolion soleplate. He wore the Earth Pack F50 against the Socceroos as well, it seems Van Persie just loves going against the masses when it comes to boot colourways…
Gervinho (Cote D'Ivoire) – Nike Mercurial Vapor Superfly IV
You know how the normal way to work out whether the boot you are holding is a Firm Ground or Soft Ground pair of boots is to just look at the studs? Yeah, that might be a little tricky for Gervinho, as the Cote D'Ivoire star has put yellow laces on his SG pair of Superfly IVs (which, to his credit, really matches up with the yellow Nike tick quite nicely), but the FG version of his boots that he brought out for the second half has the normal Hyper Punch laces. Gervinho scored the winning goal for his side over Japan in the FG Superfly, perhaps making the decision of footwear easy for the next game.
Mauricio Pinilla (Chile) – Umbro GeoFlare Pro
Umbro receives very little of the spotlight at the World Cup, and it is worthy within itself when a player is snapped in one of their boots. While Pinilla was expected to wear a green camouflage print GeoFlare Pro, he instead opted for something that was, well, less green than was anticipated. With his boots going for a combination of red, blue and green, with a bold silver Umbro logo on the outstep. We are not sure whether this is a custom boot for Pinilla or an unreleased boot. We are going to settle for the later.
Javier Hernandez (Mexico) – Nike Mercurial Vapor X / Nike Tiempo Legend V (Custom)
Chicharito wearing new boots? Considering he stuck with the same Tiempo IV colourway for the whole of last season, that is news within itself. But what about Hernandez changing to Vapor X? In a rather unexpected move, the normally pro-leather striker made the switch to the second tier of the Mercurial range. In the end, that switch was not a long run move, and Chicharito was spotted in a customised whiteout Tiempo Legend V, a super classy colourway from the Mexican.
Keisuke Honda (Japan) – Mizuno Wave Ignitus III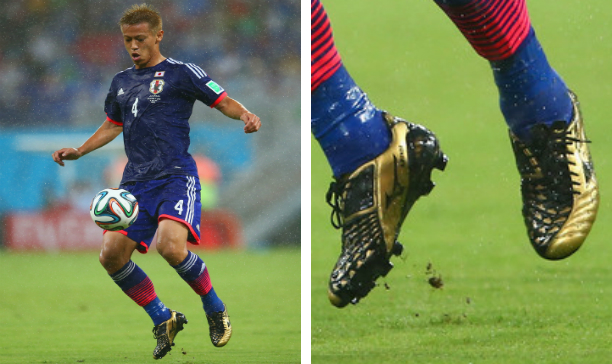 You can have your bright orange boots, your black and white patterned boots, your boots that come in a different colour on each foot, but nothing quite makes a bold statement like a gold pair of boots. Very few players have had the privilege of wearing the bespoke colour made just for them (think R9, David Beckham, Lionel Messi). Yet Keisuke Honda is the latest name to go down as a player who has had boots crafted just for them, with Mizuno crafting a special gold Wave Ignitus III just for the Japanese playmaker and free kick expert. And, well, he is a bit of a gun, so it is fully deserved in our books!
Ashkan Dejegah (Iran) – Nike Mercurial Vapor IX (Custom)
With so many contracted Nike players sporting the World Cup colourways of their respective boots, it is refreshing to see the odd player go for something a little more unique. What is just as refreshing is that amongst the sea of boots that just scream 'look at me!' to stand out on TV, the subtle White/Black Vapor IX was arguably the classiest boot on the pitch during Iran and Nigeria. The game may have lacked spark (and probably saw some armchair pundits turn off the telly and draw unjustified conclusions of the game), but we loved Ashkan Dejegah going for something a little bit different with his customised Vapor IX.
That is it for our boot spotting today, what was your favourite spot this week? Share your thoughts in the comments section below.