52 matches played, 145 goals scored, and James Rodriguez is the top scorer. What were the odds of that happening hey? We can never deny the entertainment value and the complete shock factor that the World Cup has brought us, but we are going to chill for a second and check out something that is always worth looking at: the good old Instep boot spotting. From boot switches to custom boots, The Instep has your definitive boot spotting round up, see what caught our eye over in Brazil.
Neymar (Brazil) – Nike Hypervenom Phantom
While most of us are maybe just finishing off a university degree or starting our first job or trying to keep up with a ridiculous social life at the ripe old age of 22, Neymar is the poster boy for Brazil and was gifted his own pair of gold football boots from Nike, joining a very prolific list of stars rocking gold boots. One problem: he did not wear it for the entirety Brazil's 120 minute marathon against Chile. While he wore the boots in the first half, he switched back into the standard World Cup Hypervenom Phantom for the rest of the game. Perhaps Neymar felt more comfortable in the general release Hypervenom, but Nike are surely praying that their literal golden boy carries his team in the boots right up until the final at the Maracanã.
Lionel Messi (Argentina) – adidas F50 adiZero TRX (Custom)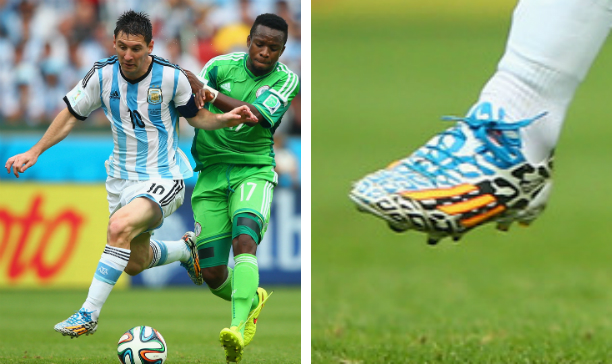 You know how you get that awful birthday present, probably from an auntie or grandparent, that you awkwardly say thanks for, only to never really use it much? If we were in Lionel Messi's shoes, we would have felt exactly like that when adidas unveiled the special F50 adiZero that was made for the little master's 27th birthday. The star was meant to wear them when he had his masterful display against Nigeria, but he instead opted for the special Messi F50 that he has been wearing so far. We expect to see Messi wearing the same boots in the knockout round clash against Switzerland, so we think the birthday F50 adiZero is going to be a boot that will not live long in the memory…
Didier Drogba (Cote D'Ivoire) – Nike Mercurial Vapor X (Custom)
Custom boot spots are always a little bit special, but the Drog has taken a customised boot to the next level with his rather special pair of Nike Mercurial Vapor X boots. While the standard Vapor X features a glass composite outsole, Drogba has put Nike through the pain of customising his boots with what appears to be the soleplate from the old Nike Mercurial Vapor SL, complete with the carbon fiber and stud configuration. An interesting customisation from the Ivorian, considering the Vapor SL was released when Drogba was bossing it up at Chelsea. Man that feels like a long time ago…
Benoit Assou-Ekotto (Cameroon) – Under Armour Clutchfit Pro (Custom)
It is not too often that UA do custom boots…actually come to think about it, Michael Dawson is probably the only other player to be provided with customised Under Armour boots. Benoit Assou-Ekotto, therefore, can count himself to be a very lucky boy for Under Armour to create a Cameroon-inspired pair of Clutchfit Pros for the defender. Benoit Assou-Ekotto always likes to be different when it comes to boots, he did start the whole 'wear two different pairs of boots' thing before it went mainstream…
Nani (Portugal) – adidas F50 adiZero TRX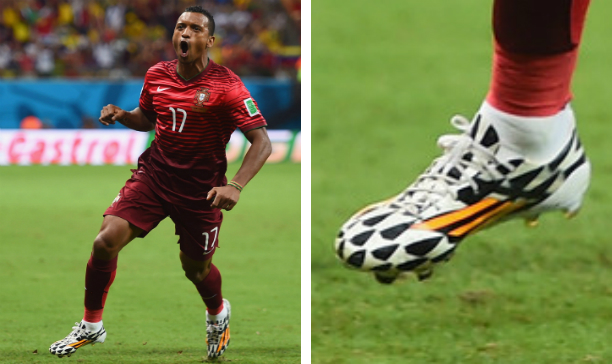 With all of adidas' boots all looking the same over in Brazil (come on, you have to admit it), we feel that may be the main reason why this boot spot has flown under the radar up until now. While Nani wore Predator LZs for the best part of the last 2 years, the winger has made a cheeky return to the F50 adiZero that we have not seen the Portuguese star wearing since he first joined adidas from Nike back in 2010. The F50 has been good for adidas, being the top scoring boot of the World Cup so far.
Pedro Proenca (Referee) – adidas Nitrocharge 1.0
I will be the first to put my hand up and say referees wear bloody boring boots. It is always either adiPure 11Pros, Copas or Tiempos when it comes to the whistleblower out on the pitch. Which is why it is rather refreshing to see a referee at the World Cup wearing the Nitrocharge 1.0, with Pedro Proenca taking charge of yesterday's heated Netherlands vs Mexico tie in the boots. I wear blackout F50s myself, but I am sitting here waiting to hit the pitch in a blackout Superfly IV…
That is it for our boot spotting today, what was your favourite spot this week? Share your thoughts in the comments section below.